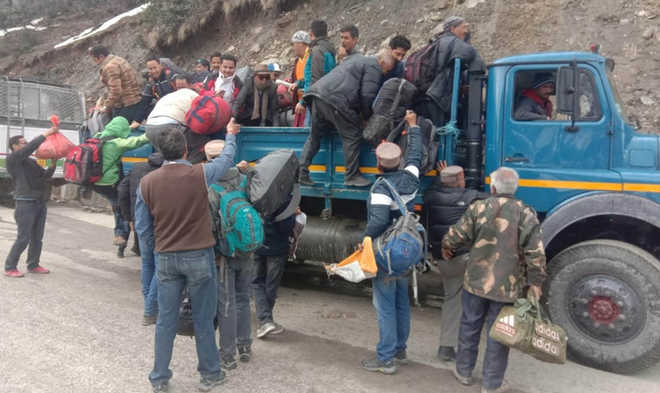 Dipender Manta
Tribune News Service
Mandi, April 21
Giving relief to residents of tribal Lahaul-Spiti, the Border Roads Organisation (BRO) on Sunday permitted locals to use the Rohtang tunnel from the Manali side towards Lahaul-Spiti.
Over 1,000 residents of Lahaul-Spiti have been stranded in Kullu-Manali for the past few months because of the closure of 13,050 ft Rohtang Pass, the gateway to Lahaul on the Manali-Leh highway.
The pass receives heavy snowfall during winter, which cuts it off from the rest of the state for more than six months.
After the BRO permission, the Lahaul-Spiti administration transported around 400 persons from Kullu-Manali towards Lahaul and 110 from the Lahaul side towards Kullu via the Rohtang tunnel in HRTC buses and other vehicles. The HRTC authority has pressed seven buses into service.
The tunnel has been closed since December because of heavy snowfall. It was restored two days ago. However, the BRO seemed in no mood to allow the movement of common people via the tunnel as the construction work is going on.It gave permission to those who had requested to be airlifted between Kullu and Lahaul.
The BRO had demanded a list of these people from the administration.
Earlier, the BRO had given permission to poll staff to use the tunnel, which irked Lahaul-Spiti residents. They threatened to launch a massive protest on Sunday, but the BRO pacified them, saying they would access to the stranded people via the tunnel.
Mangal Manepa, regional manager, HRTC, Keylong, said over 1,000 persons were stranded in Kullu-Manali.
Deputy Commissioner Lahaul Spiti Ashwani Kumar Chaudhari said the people would be allowed to use the tunnel only on Sunday.
A large number of people are still waiting for gaining access from the Kullu side towards Lahaul and the BRO will decide when to let them cross the tunnel.