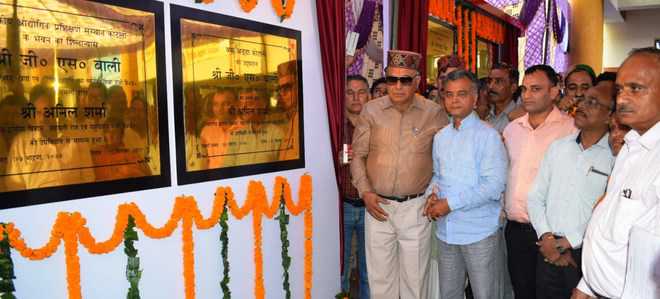 Dipender Manta
Tribune News Service
Mandi, September 11
Distressed over the remarks of Chief Minister Virbhadra Singh against former Telecom Minister Pt Sukh Ram, Rural Development Minister Anil Sharma today said the Chief Minister should not referred the former Telecom Minister as "Aaya Ram Gaya Ram". Anil Sharma is the son of Sukh Ram.
Last month, during a party function at Mandi in the presence of Himachal Congress in-charge Sushil Kumar Shinde, Virbhadra said, "I am not Aya Ram Gya Ram like other leaders, who come and go in the party for self gains."
However, he did not take the name of any leader but said Sukh Ram was also not stable in politics, who had left the party before the Assembly elections in 1998 and floated his own outfit, Himachal Vikas Congress (HVC), and formed the government with the BJP.
The remarks of the Chief Minister had hurt Anil Sharma, who expressed his sentiments by saying that Sukh Ram had the capability to form the government and in 1998, the BJP had formed the government with the support of the HVC.
The minister also targeted Health Minister Kaul Singh Thakur by saying that when the Chief Minister had announced the opening of a degree college and Industrial Training Institute at Kotli in the Mandi Sadar constituency, then a minister had opposed it. However, he was doing development works in his constituency without any bias. The factionalism comes to the fore in the Congress, where war of words continues.
Meanwhile, Bali inaugurated a bus stand, constructed at a cost of Rs 3.16 crore, at Kotli in Mandi. He was accompanied by Anil Sharma and other local Congress leaders. He also laid the foundation stone of ITI to be constructed at a cost of Rs 7.70 crore.
Bali praised Pt Sukh Ram for his contribution to the telecom sector.
He said to ensure road safety, crash barriers were being erected wherever roads were narrow and Rs 50 crore would be spent on it. He said in 10 days, 12 bus stands would be dedicated to the people. He announced Rs 1 crore to complete the remaining work of the bus stand at Kotli.
He announced to run Mudrika buses on Mandi-Kotli-Mandi, Kotli-Haridwar, Mandi-Garmada and Pathankot-Garmada route. He also announced to start draftsman and mechanical trade at ITI, Kotli.
Top News
In Mizoram, Zoram People's Movement is locked in close race ...
According to Defence Ministry, 98 per cent of the total proc...
India has constituted a probe team to investigate allegation...
Nikhil Gupta, 52, has been charged with murder-for-hire in c...
GDP growth in the first quarter of current fiscal — April-Ju...