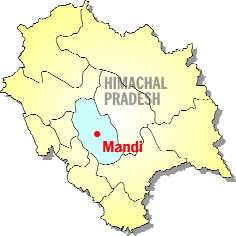 Pratibha Chauhan
Tribune News Service
Shimla, September 20
Besides setting up a special task force for expediting the setting up of an international airport at Nag Chala in Mandi, the Union Civil Aviation Ministry will shortly get the obstacle limitation surface survey done so that the project can be put on fast track.
The State Tourism and Civil Aviation Department had got Rs 1 crore deposited for undertaking the survey at Nag Chala, about 5 km from Sundernagar in the Balh valley of Mandi district.
The development comes in the wake of the meeting Chief Minister Jai Ram Thakur had with Suresh Prabhu, Union Civil Aviation Minister.
However, with the cost of land and resettling some families, whose houses fall in the area, Prabhu has asked for a change in alignment of the airport so that the cost could come down.
It is learnt that several houses, roads and prime agricultural land fall within the chunk of almost 3,500 bighas identified for the international airport.
The Airports Authority of India (AAI) has given its clearance for the airport after visiting the site. It is reliably learnt that the Centre will soon set up a special task force for weekly monitoring of the project. The Additional Chief Secretary, Tourism, Himachal, Executive Director of the AAI and an official from the Civil Aviation Ministry will be its members.
Though the land acquisition cost could be well over Rs 2,000 crore, the Chief Minister is keen that the project should be expedited.
"Efforts are on to expedite the project and Rs 1 crore has been deposited for undertaking the survey," confirmed Ram Subhag Singh, Additional Chief Secretary, (Tourism and Transport).
With an international airport being a pre-requisite to promote tourism, the government is keen that the project comes up at the earliest.
Though efforts were made in the past to zero in on a site and inspection was also done by teams of the AAI, finding a suitable place was a tedious task, considering the difficult topography and mountainous terrain.
AAI nod to Nag Chala site
The Union Civil Aviation Ministry will shortly get the obstacle limitation surface survey done so that the project can be put on fast track
The State Tourism and Civil Aviation Departments have deposited Rs 1 crore for undertaking a survey at Nag Chala, about 5 km from Sundernagar in Mandi district.
The Airports Authority of India has given its clearance for the airport after visiting the site
Though the land acquisition cost could be well over Rs 2,000 crore, the Chief Minister is keen that the project should be expedited