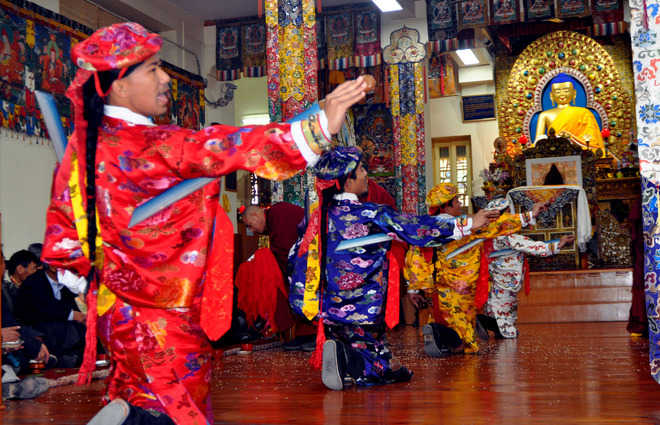 Lalit Mohan
Tribune News Service
Dharamsala, February 16
Losar, the Tibetan new year and the biggest festival of Tibetans, began today. Tibetan political leader, Sikyong, Lobsang Sangay, Speaker of Tibetan Parliament-in-Exile, Khenpo Sonam Tenphel, officials of the Central Tibetan Administration and monks of Namgyal Monastery gathered early in the morning at Tsuglagkhang main temple in McLeodganj on the first day of the Tibetan lunar new year – Losar – 2145 (the year of earth dog) for prayer ceremony.
The gathering recited the invocation of Palden Lhamo, the official protector deity of Tibet. Following the early morning prayer service, local Tibetans from around Dharamsala visited Tsuglakhang to offer prayers and receive blessings. The Dalai Lama and Lobsang Sangay sent their greeting to the Tibetans on the occasion.
Losar marks the end of winter and start of spring season. The end of Losar festival after three days is considered as the first day of New Year according to the Tibetan calendar and as per the tradition. On this day the Tibetan exiles pay obeisance to their spiritual guru, the Dalai Lama.
On the first day of the New Year, the Tibetans avoid making any purchase or spend money. The behaviour is guided by the belief that if they spend on the first day, they would be under debt for the entire year.
Besides, every Tibetan grew in age by one year today. In Tibetan tradition, the first day of the New Year is considered as a measure of increase in age rather than the birthday as per other tradition among other communities.
As per the tradition, the preparations of Losar begin on the 29th day of the last month of the Tibetan year. On the 29th day of last month is called Nyi-shu-gu in Tibetan language. On this day, all members of family come together. They clean up the house, especially kitchen. Thupa, traditional Tibetan food, is prepared for dinner. The food is cooked in a single utensil and served to all collectively.
Since most of Tibetans were nomads living in cold desert areas of Tibet, as per the tradition on the 29th day of the last month, men used to take bath and clean themselves after extreme winter. The women members of the family take bath on the 30th day of the last month.
A game is played by members of the family on the 30th of last month. In game things are distributed to members according to which their behaviour in the last year is evaluated.
The major festivities and public celebrations for the festival would take place on the 3rd day of Losar. On this day, a circular dance is performed by Tibetans. The visitors are also allowed to participate in the dance.
Today, most of the Tibetans here celebrated Losar staying within their families or visiting the Dalai Lama temple.