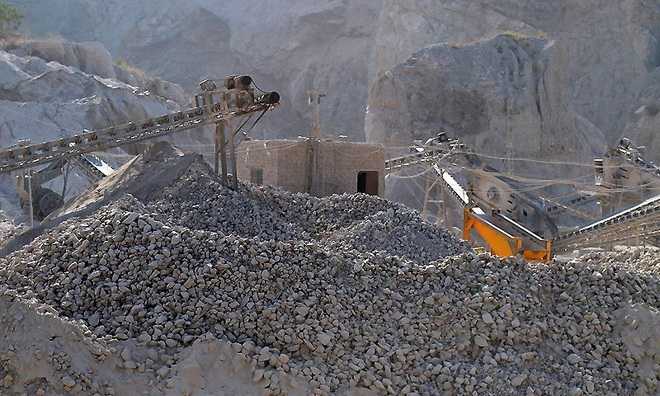 Ravinder Sood
Palampur, July 14
One dozen stone crushers situated on the banks of the Beas in Jaisinghpur sub division will be closed following recent orders of the National Green Tribunal (NGT). The NGT in its order dated July 10 turned down the appeal of the state government and ruled that stone crushers functioning within 100 m distance of any river, rivulets or khuds in the state would be shut down with immediate effect. The tribunal has also directed the state government and the State Pollution Control Board to implement its orders with immediate effect.
Earlier in October the NGT had ordered the closure of all stone crushers in the state within 100-m radius but the state government had challenged the order of the NGT in Supreme Court since a number of state politicians are directly involved.
The apex court had directed the NGT to reconsider its judgment. However, the NGT on July 10 refused to reconsider its judgment keeping in view the large-scale environmental degradation being caused by the stone crushers in the state, polluting rivers and also indulging in reckless cutting of hills and extracting mining material with heavy equipment.
Ravinder Ravi Dhiman, MLA Jaisinghpur, while talking to The Tribune, here today said it was a landmark judgment of the NGT which would save thousands of lives of innocent residents of Jaisinghpur who had become victims of several diseases because of pollution being emitted by these stone crushers. Besides, these stone crushers were also polluting the river Beas and other rivulets.
He appreciated the efforts of The Tribune for highlighting the issue vigorously in these columns. He urged Chief Minister Jai Ram Thakur to initiate necessary steps for implementation of the orders of the NGT.
Several environment groups, panchayats and social bodies, who had launched a movement against illegal mining by stone crushers in Jaisinghpur, Alampur, Harsipattan, Lambagaon and Rakkar in river Beas, also hailed the judgment of NGT imposing ban on the functioning of stone crushers in river beds, which had played havoc with the nature and also polluting the river water.
Large-scale illegal mining is being carried out In Jaisinghpur subdivision of Kangra district and Rakkar area of Dehara sub division by the stone crusher in gross violation of the directions of the state government and Himachal Pradesh high Court in connivance with police, mining, forest departments.
NGT July 10 verdict
The apex court had directed the NGT to reconsider its judgment
However, the NGT on July 10 refused to reconsider its judgment keeping in view the large-scale environmental degradation being caused by the stone crushers in the state.
The activity was also polluting rivers. Reckless cutting of hills was going on as mining material with heavy equipment was being extracted