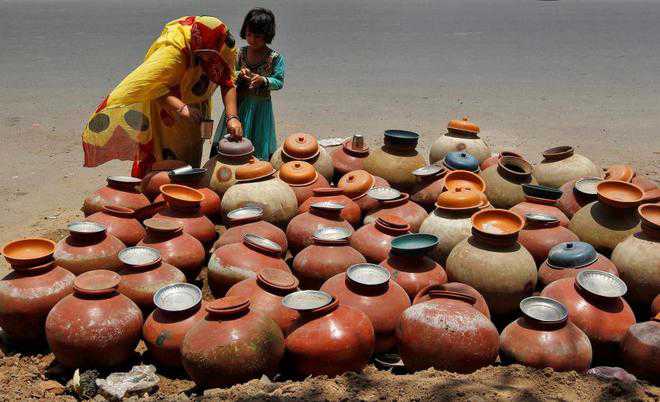 Rajesh Sharma
Una, July 8
With a two metre decline in groundwater level in the last 10 years, the Union Ministry of Jal Shakti has included Una in the list of 255 water-stressed districts in the country.
A team constituted by the Centre under the Jal Shakti Abhiyan reached here Monday. During its three-day tour, the team will study the realities of depleting groundwater in the district.
It is led by Rajiv Kumar, Joint Secretary in the Ministry of Electronics and Information Technology. The other members include Bhagwan Das, Director in the Ministry of Food and Public Distribution and NK Meena, an engineer with the water and power sector.
Una DC Sandeep Kumar, officials from other departments concerned and stakeholders were present.
Rajiv Kumar said the abhiyan began on July 1 and the first phase would be completed by September 15. Grey areas would be identified and discussions would be held with stakeholders to find workable solutions to the important issue. In the subsequent phases, activities would be undertaken on the field to implement the plans.
Rajiv Kumar, nodal officer for Una district, said five basic activities had been proposed by the ministry to tackle the groundwater stress. These were water conservation and rainwater harvesting, renovation of traditional water bodies, reuse of borewell recharge structures, watershed development in the valley catchment areas and intensive afforestation.
He said the availability of water to each person in the country during 1951 was 5,177 cubic metre per year, which had now come down to 1,345 cubic metre.
Senior state hydro-geologist KS Mandhotra said 99 per cent water used for irrigation and drinking purposes in the district was drawn from the ground aquifer.
At least 22 piezometers had been installed at various pumping stations in the district in 2009 that provided daily data on the water level status. He said the depletion trend had been calculated at 20 centimetre per year.
Mandhotra said every ground water aquifer had a dynamic and static water resource. While dynamic water was the quantity that was recharged every year through rain, the static reserve was the one that permanently existed in various layers of sand and gravel.
In Una district, besides the entire dynamic resource, an additional 48 per cent of it from the static reserve was being withdrawn every year.
Shocking figures
2 metre decline in groundwater level in the district in the last 10 years
22 piezometers had been installed at pumping stations to avail data
The drive will focus on these aspects : water conservation and rainwater harvesting, renovation of water bodies, watershed development and afforestation
Top News
The network, which operated in the darknet and used cryptocu...
Railway Board has recommended for Central Bureau of Investig...
Amid pro-Khalistan sloganeering, the 39th anniversary of Ope...
Focus on ways to expand bilateral defence and strategic ties
Observers feel election campaign built around the possibilit...