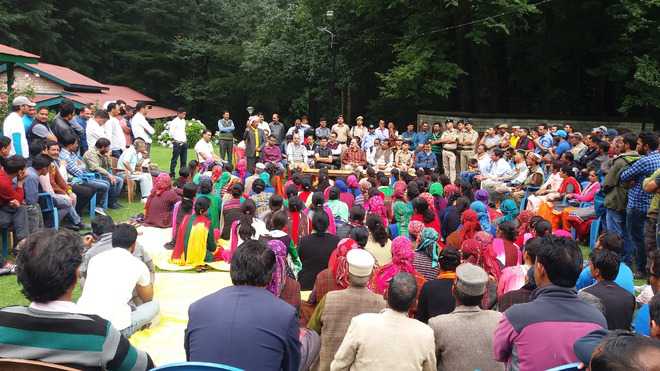 MC Thakur
MANALI, JULY 31
Residents of three panchayats of Manali have opposed the proposal to set up a ropeway between Kothi and Rohtang Pass and the public meeting by government officials did not yield any result today.
A delegation of officials led by Dinesh Malhotra, Commissioner, Tourism and Civil Aviation, had called a meeting with villagers. Hundreds of people from nine villages, taxi operators and many others reached here to take part in the meeting.
DC Kullu, officials from forest, tourism, I&PH, PWD, police and other departments were also present in the meeting. Villagers expressed their concern over the setting up of the project. Many of them talked on various issues one by one.
Palchan panchayat pradhan Sunder Singh Thakur said people of panchayat were against issuing no objection certificate to the project. He said almost all residents of villages don't want the ropeway at the cost of hundreds of trees and employment.
"We are not against the ropeway project but it should be established at a place which is not connected by road as this will develop a new tourism site in Manali and help increase employment options", a resident of Palchan village said.
Sushil Thakur, a resident of Kothi village, said this project would result in felling of a large number of trees, many of which are rare species. He also said that local residents had grazing rights in the area and also deities go to Dashaur, Beas Rishi and other places frequently. He rued that the ropeway project would pose a threat to ecology, local rights and employment.
Teja Bhardwaj, another resident from Burua village, requested officials to provide villagers with copies of MoU signed with the company in English and Hindi language. He also sought to know the exact number of trees, their species that will be felled for the project and its impact on the environment. Teja sought to know that as the project will affect the livelihood of the locals what plan the government had to compensate the affected villagers.
Dinesh Malhotra, Commissioner, Tourism and Civil Aviation, said that the government would take care of the rights and employment of the local residents. He said the government would prepare a report which would be finalised with the help of villagers before forwarding it to the National Green Tribunal (NGT).DC, Kullu, Yunus Khan, said work on eco-friendly market at Marhi would be completed by October. He said the meeting was organized to know the public views on the ropeway project.
Top News
The top wrestler claims that people close to WFI chief Brij ...
The announcement was made in the presence of Ajit Pawar, a k...
The incident takes place at around 1.30 am when the men barg...
Mann says his government will recruit 1,880 doctors and nurs...
Khattar's remarks come amid reports of growing differences b...