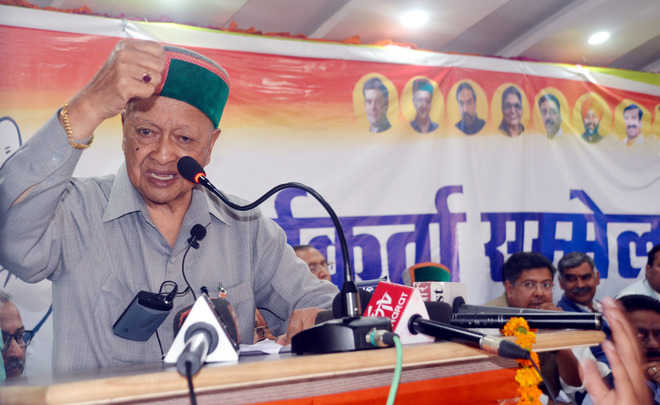 Tribune News Service
Solan, April 20
Former Chief Minister Virbhadra Singh today attacked the BJP for not respecting their senior leaders and said a party which could not accord due respect to its elders like LK Advani, Murli Manohar Joshi and Shanta Kumar would not respect the common man.
Addressing a rally at Solan, Singh said the BJP leaders, who failed to respect their elderly leaders, would face the same plight within the party.
He said the Congress always worked within the ambit of the constitution.
He said since dictatorship was prevailing in the nation, the interests of the common man had failed to be protected and the big corporate were being benefited.
Earlier, addressing a rally at Rajgarh in Sirmaur district, Virbhadra Singh took a jibe at Sukh Ram and said he was the first in the Congress but had later formed the HVP and then joined the BJP. Now he came back to the Congress and was now targeting the BJP. He said he, however, welcomed his entry into the party.
Singh alleged that the BJP had deliberately delayed the grant of the ST status to the Hattee community of the trans-Giri area of Sirmaur despite promises.
He alleged that the BJP had converted the government schools into RSS pathshalas. He said the Prime Minister merely indulged in poll gimmicks and in 2014 too, he had made tall promises which he failed to keep. He urged the people to vote for the Congress nominee DR Shandil and support the Congress.