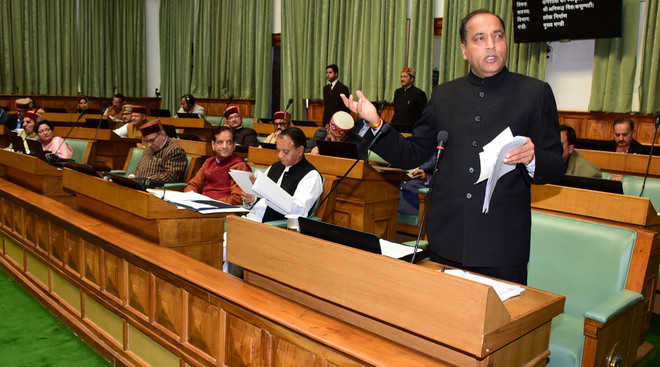 Tribune News Service
Shimla, March 13
Putting the acts of omission and commission during the previous Congress regime under scanner, the new BJP regime today said that a White Paper would be issued on the alleged irregularities in purchase of fleet of buses by the Himachal Roadways Transport Corporation (HRTC).
This was stated by Transport Minister Govind Thakur while replying to a query by Inder Dutt Lakhanpal, Hoshiyar Singh, Arun Kumar and Mukesh Agnihotri during Question Hour in the Assembly. The issue of alleged irregularities in purchase of ordinary and Volvo buses in HRTC rocked the House as the BJP MLAs raised doubts over the purchase, seeking an inquiry.
"We will hold an inquiry into purchase of buses to find out as to why low floor and long buses were bought from the money received under Jawaharlal Nehru National Urban Renewal Mission (JNNURM) when they are most unsuitable for hilly areas," assured Thakur.
The minister said out of 791 buses bought, 325 were lying idle as the court had imposed a ban on their plying outside the cluster. "The HRTC at present has a fleet of 3,103 buses with 170 buses being of zero value and 70 Volvo buses being taken on wet lease," he said. He added that there were allegations of irregularities in granting routes to private buses, clashing with that of the HRTC.
Replying to a query by Bikram Singh Jaryal regarding appointments in the State Pollution Control Board (SPCB), Chief Minister Jai Ram Thakur said an inquiry would be ordered into the matter. "It is very strange that the SPCB decided to undertake recruitment on its own level when the task is done by the HP Public Service Commission (HPPSC) and the HP Staff Selection Board, thus raising doubts in everybody's mind about the genuineness of the appointments," the Chief Minister said. He said huge sums of money were paid to HP University for the task when the HPPSC did the job.
Replying to another query by Anirudh Singh, the CM said his government had made a provision of Rs 100 crores for maintenance of roads. "Very often we see that a road has been constructed but it is in such a poor condition that vehicles cannot ply, making budgetary provision for maintenance a must," he said.
The CM also said due care would be taken to ensure that roads connecting tourist destinations were in a good shape as bad roads could be a major hindrance to tourism promotion.
Top News
Many local villagers were engaged in illegal mining when the...
The indictment enmeshes the Justice Department in the most p...
There have been signs of differences between the party and i...
Her claims come in the backdrop of a war of words between Ma...
A vacation bench of justices Aniruddha Bose and Rajesh Binda...