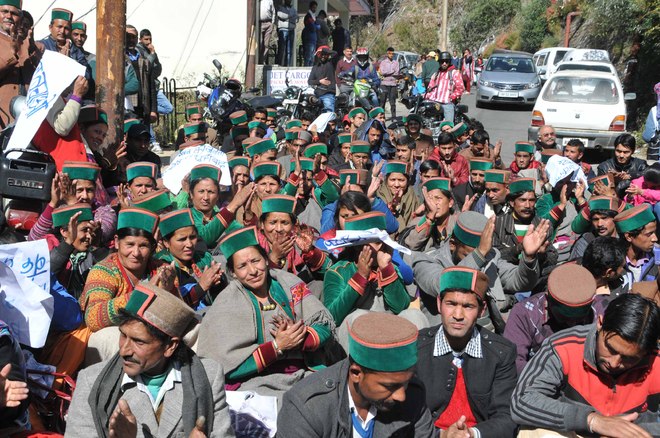 Kuldeep Chauhan
Tribune News Service
Shimla, November 24
The fear of losing their houses and a government primary school forced Panvi tribals to march to the state capital today.
They say the blasting in the underground power house and the tunnel of the 9 mw Ralla-Taranda project in Kinnaur will render them homeless. The tribals, including women, protested in front of the office of the Directorate of Energy.
Primary School in Panvi has been shifted to the Mahila Mandal Bhawan but the safety of children is still under question.
"Houses are sinking as the power house is being constructed beneath the village," said Vivek and Jitender.
Fear writ large on their faces as they said the Sorang project mishap that killed three persons could re-occur. The tribals said the 1997 flash floods in Panvi had devastated everything. "We will never allow the power house to come up under the village," the tribals asserted.
The tribals's pleas on the damage and appearance of cracks in houses have fallen on deaf ears. They said the construction posed a threat to the natural water sources.
They have now constituted the Panvi Bachao Sangharsh Samiti to save their village located above the Panvi Khud, a tributary of the Sutlej river in Kinnaur.
The area is home to 175 tribal families.
They also submitted a memorandum to Chief Minister Virbhadra Singh, asking him to order the scrapping of the project.
"Following blasting in the tunnel and the underground power house, the houses have developed cracks, which are widening," said Yashwant Negi and Sandyal Jitender Singh.
The tribals trashed the report of the geologist from the industries Department giving a clean chit to company alleging that he was obliging the private company.
"The Panvi panchayat has passed a resolution saying no to the project as the company did not take the gram panchayat's approval, mandatory under Section 4 (e-1) of PESA ( Provision of Panchayat Extension of Scheduled Area Act, 1996)," said Rakesh Singha, CPM leader, who has been supporting the cause of the villagers.
Panvi panchayat pradhan Phoola Devi and her husband Budha Ram opposed the project. He said representations were submitted to the Kinnaur DC and Bhavanagar SDM in October and November this year.
The SDM has directed Ralla-Taranda Project Private Limited to resort to limited blasting, fill up the cracks in the houses and the village and pay the damages.
"But such directions remain confined to papers," said Budha Ram, demanding that the project should be scrapped to save Panvi from sinking.
Top News
Odisha government has issued helpline 06782-262286. The rail...
At least 50 people died and 350 were injured in a three-way ...
12837 Howrah-Puri Superfast Express, 12863 Howrah-Bengaluru ...
WFI chief demanded sexual favours in lieu of supplements and...
Said agitation will be intensified by holding panchayats acr...