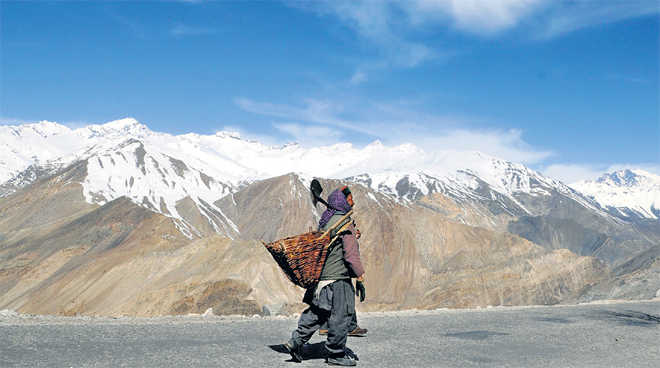 Jai Prakash Narain
India is presently in a state of transition —economically, demographically and health-wise, and Lahaul & Spiti, a remote tribal district of Himachal Pradesh, too has been affected by this transition.
With a unique geographic location bordering Tibet, Lahaul & Spiti district has over the past few decades witnessed unprecedented progress in terms of literacy, income, life expectancy and in other developmental parameters. The physical infrastructure such as roads, electricity supply, etc is now much better than what used to be years ago.
During the 1960s, children living in the rugged and mountainous terrain had to walk on foot many kilometres to go to school and back home in the evening, day after day. There was no bus service or cars at that time. The agriculture was primarily based on crops for self use and for survival, except Kuth which used to be exported to China but that stopped after the 1962 war. Now, people grow a variety of cash crops such as seed potatoes, peas and apples, etc.
The district today has a literacy rate of 91 per cent, higher than the national average, and can boast of the best child sex ratio among all districts in the country, according to the 2011 Census! Remarkable changes have occurred in one generation, made possible due to the hard working and enterprising nature of the people, aided by support from the government.
Health challenges
Despite the progress that has been made, many challenges still remain — in terms of poor infrastructure, bad telephone and internet connectivity, and poor access to health services. The problems get compounded in winter when the valley gets cut off from the rest of the world for up to six months every year, due to heavy snowfall and closure of Rohtang pass at the height of 13,000 ft above mean sea level.
In terms of health, although no systematic studies have been carried out so far, anecdotal information suggests that the major causes of mortality and morbidity vary from season to season and are related to cultural practices and lifestyles. For example, chronic diseases such as hypertension, diabetes, cancer, chronic heart failure, and arthritis are on the increase. According to data from the Health Department, 70 per cent of all deaths were due to chronic diseases.
While tuberculosis has declined quite remarkably over the years, acute respiratory diseases, including bronchitis, are common especially during winter. Reproductive-tract infections and nutritional anaemia are common among children and women. In winter months, frostbite and avalanche accidents contribute to disease morbidity and human casualty.
Recently, an outbreak of hepatitis B virus has been rampaging in Spiti valley where nearly 24 per cent people were found positive; the rate among the highest seen anywhere in the world (the national average is only 1-3 per cent). The local health administration has initiated a vaccination campaign and two rounds have been completed. However, those who are already infected or sick will need treatment with anti-virals; otherwise they over time are at risk of developing life-threatening complications such as liver cirrhosis or cancer.
With regard to health services, the district while on paper boasts of a network of health centres such as community health centres (CHCs), primary health centres (PHCs) and sub-centres but unfortunately the people have no access even to basic health care. The health services are plagued by perennial shortage of doctors and other paramedical staff. For example, the regional/district hospital doesn't even have a full-time specialist, forget about CHCs or PHCs. Moreover, there is no ultrasound facility, blood bank, operating-theatre assistant, or a health-education specialist to assist in health promotion and disease-prevention activities.
Because of the limited health infrastructure throughout the district, the seriously ill patients from the district have to be airlifted to Kullu, the nearest district by helicopter, seeking better medical care. In the event of non-availability of the helicopter service, many lives are tragically lost en route to Manali which is 126 km from Keylong. (However, work is under way since 2010 to build a 8.5-km long tunnel underneath Rohtang pass to create a much safer and faster year-around link to Lahaul & Spiti).
Opportunities ahead
The irony is that the poor state of health infrastructure exists in spite of Lahaul &Spiti having been designated as a priority district under the National Health Mission! Moreover, facilities provided for the doctors are not adequate which acts as a disincentive. To ensure adequate staff strength, government must create an enabling environment, including monetary incentives to attract young doctors to serve in the remote districts like Lahaul & Spiti.
Clearly, the tribal people though living in geographically remote and far- flung areas too expect and are entitled to quality health care, like any other citizen of the country! They aspire for it and have a right to such a service.
Strengthening the health workforce and thereby providing quality health services to all sections of the society must therefore be one of the state government's top priorities! And people too should demand it from their elected representatives.
Districts such as Lahaul & Spiti with a smaller population size also provide unique opportunities to implement and benefit from many path-breaking initiatives launched by the Government of India such as Swachh Bharat, Digital India, dialysis facility in each district scheme, Ayushman Bharat, etc. These initiatives offer a great opportunity to the district to build the critical physical infrastructure especially at the sub-centre level and create an environment so that good-quality services and essential amenities become available and accessible to the tribal people of this border district.
In this context, the Indian Council of Medical Research (ICMR) decision to establish a field station on tribal health at Keylong, district headquarters of Lahaul & Spiti is highly appreciated by the local population. This is expected to generate crucial data and evidence that can guide policy and programme planning in the district besides supporting the clinical services at district hospital with laboratory diagnostic facilities. Many staff have already been recruited and the land allocated by the government.
Another positive development is concerning the air ambulance service for emergency transportation of seriously ill patients. Such a service is on the anvil in collaboration with a Swiss NGO. This is a welcome initiative, which can save many lives.
Finally, given this background, the people expect the district administration to leverage these new schemes for the benefit of the people of the district. By seizing the unprecedented opportunity and in partnership with the people, they could turn Lahaul & Spiti into a SMART district – a district that could serve as a model for other hill districts or any other district in the country.
(The writer is a former Director, Communicable Diseases, World Health Organization)
Top Stories