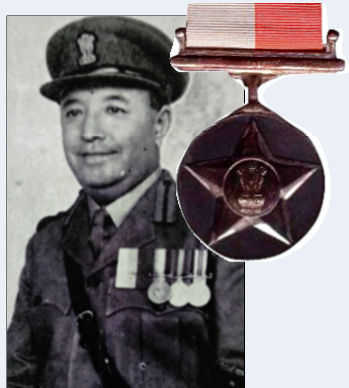 Col Dilbag Dabas (Retd)
A scion of the ruling family of Lahaul, Prithi Chand was born on January 1, 1911, in Rangri, a small principality tucked into the Himalayas to the north of Kullu and Manali bordering Ladakh.
Rangri is now part of present day Himachal Pradesh. Prithi Chand was a second generation soldier.
His father Thakur Amar Chand fought during the World War 1 as part of the British Indian Army in Mesopotamia (present day Iraq). For his distinguished services under the crown, he was conferred upon the Upadhi (honour) of 'Rai Bahadur'.
Prithi Chand was enlisted in Ladakh Scouts in 1931. He quickly rose through the ranks and was commissioned into the 2nd Battalion of the Dogra Infantry Regiment in 1939.
After Partition in August 1947, all princely states acceded to the Indian dominion barring Hyderabad and Jammu and Kashmir. Being Muslim dominated and contiguous to Pakistan, the accession of J&K to India was a major concern for the Indian dominion. Taking advantage of the wavering stand of Maharaja Hari Singh, Pakistan planned the annexation of the entire state of J&K, the execution of which began in late August 1947.
Pakistan's desire to forcibly occupy J&K stemmed from strategic importance of this centrally situated state in Asia, which has common borders with China, Tibet, India, Pakistan and Afghanistan. The Soviet province of Badakhshan is only a short distance to the north, separated by a mountainous strip of Afghanistan territory. By the time the Maharaja signed the Instrument of Accession to India, Pakistani raiders had entered Poonch, Baramula had fallen and Mirpur, Kotli, Jhangar, Naushera and Bhimber were under siege.
To halt the advance of the enemy at Baramula and save Srinagar, Indian Army airlifted a sizable force to Srinagar as also augmented its strength in Jammu Region. But the vast Ladakh valley with headquarters at Leh had just about two platoons of state forces to defend. Seeing the precarious defence posture of Ladakh valley, Pakistan planned to push the Lashkars of the raiders from north via Nubra valley to grab Leh, the low hanging fruit.
After Lt Col Sher Jung Thapa along with a company of the state forces proceeded to reinforce Skardu, there were only two platoons left to defend Leh. There was not just the urgent need to send reinforcements, but also to defend Leh till the reinforcements arrive. The 161 Brigade started looking for suitable volunteers, who could cross the formidable Zoji La and head for Leh. The 2nd Dogra Battalion had a number of Lahaulis and Spitis serving with it. Prominent among these were Major Prithi Chand and his cousin Captain Kushal Chand. Both cousins gladly volunteered to go to Ladakh and save Leh. Forty Lahauli jawans also joined the two cousins. The party was suitably equipped and given additional rifles to equip the Ladakhis. The party along with another volunteer and an old hand, Subedar Bhim Chand, the distant uncle of Prithi and Kushal, crossed the Zoji La on February25, 1948.
The exploits of the two cousins are well covered in the citations, which earned them the Maha Vir Chakra.
Major Thakur Prithi Chand, MVC, was promoted to the rank of Lt Col in 1950 and commanded the 3rd Battalion of the 11th Gorkha Infantry Regiment for three years. Thakur Prithi Chand, the fearless Lahauli Dogra, retired from active service in a well-deserved rank of Colonel.
The citation reads...
"In February 1948, Major Thakur Prithi Chand of the 2nd Dogra Battalion volunteered to command a small force of 18 volunteers from the Indian Army in the Kashmir Valley to Leh to raise and train a militia force, and organise the defence of that area. He led this small band of brave men in mid-winter across Zoji La, a mountain pass at 11,000 feet, in snow blizzard and over 20 feet deep snow without any special snow or winter equipment. This in itself was an epic feat. On arrival at Leh, Major Prithi Chand took command of two platoons of J&K State Forces, and with his own men, hurriedly raised and trained some 200 militia. By May, the enemy had overrun most of Baltistan, captured Kargil and was advancing on Leh along the Indus and Nubra valleys. This young officer with little tactical knowledge or experience, but filled with intense patriotism and an indomitable spirit, held the enemy advance by adopting guerilla tactics. Covering a front extending over hundreds of miles, he organised raids and ambushes on the enemy, frequently leading them himself. Major Prithi Chand underwent extreme physical strain; he appeared everywhere. One day he was in the Indus valley and the next day or day after, he would be in the Nubra valley many miles away. He and his men lived mostly on sattu and with very little ammunition he kept the enemy at bay until reinforcements were sent to him by air. Posterity will sing the praises of Major Prithi Chand and of his small band of men for generations to come, and the people of Ladakh valley will always remember them as their saviors. Major Thakur Prithi Chand throughout these operations displayed exceptional leadership, courage and indomitable spirit in the highest traditions of the Indian Army".
(Writer is veteran Gunner, 6 Field Regt) 
Top News
Ethics Committee of Lok Sabha had recommended Moitra's expul...
'Will fight you for next 30 years inside and outside Parliam...
The observers will visit the states and give inputs to BJP p...
PM Trudeau has made explosive allegation of 'potential' invo...
The firing incident of December 3 was caught in a CCTV camer...