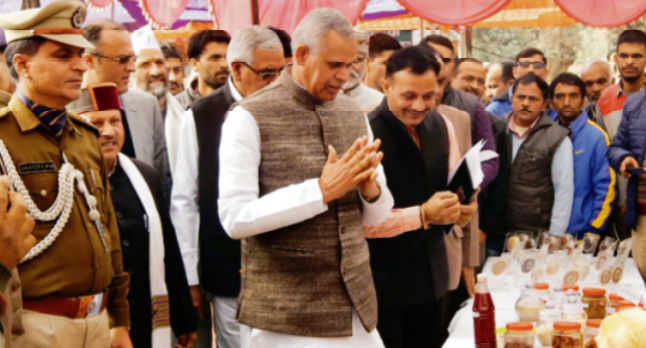 KS Tomar
Acharya Devvrat, who has been appointed as the Governor of Gujarat, will get ample opportunities to implement his dream project of 'organic farming', which he successfully launched in the state and motivated over 50,000 farmers to adopt this technique.
As per observers, Acharya's lifestyle was predominantly governed by simple food habits unlike a majority of politicians or bureaucrats appointed to these pivotal and ceremonial posts, which is the prerogative of the ruling party, so that they can act as per the wishes of their 'bosses' in Delhi whenever crisis hits any state. Devvrat never faced such test, but he always favoured the preservation of the sanctity of the Constitution of India in letter and spirit.
While leaving for Ahmedabad last week, Governor was having mixed feelings of taking up the new assignment in the home state of the PM and Union Home Minister, whereas he was emotionally dazed over departing from Himachalis, who will remain in his heart forever. Acharya was always poised for a role in the bigger state, which is primarily due to the faith reposed in him by PM Modi and Amit Shah, who appreciated his relentless efforts to popularise organic farming and 'Sawachh Bharat Abhiyan'. Devvrat felt at ease in Himachal, which is so dear to him owing to its climate, calmness, serenity, peace and respectful people.
Experts feel that Devvrat created spiritual atmosphere in Raj Bhavan, where liquor and non-vegetarian dishes were prohibited, which is uncommon with any governor in the country. Despite dignitaries, his guests included villagers from Haryana and other states, which gave him a lot of personal satisfaction. Being physically fit, Acharya travelled by road to meet people and kept himself updated with the woes and problems of the aggrieved, which is not very common with governors in India. Similarly, he could be one of the first governors in India, who directed his office to register vehicles with the Transport Department and get number plates installed which will not differentiate them from others thereby strengthening the spirit of equality. Governors' vehicles are without number plates in India, which entitles them to be above the clutches of law and even the police cannot register FIRs against these vehicles whenever they are involved in accidents etc.
Political observers opine that he had good relations with the Opposition and he tried improving the functioning of universities and made special attempts to set things in order, but could not due to the inefficiency of VCs, teachers and his government officials concerned, who were posted on the campus. Appointments of the vice-chancellors are done on the recommendations of the party in power.
People will remember him for his simplicity, love for poor and commitment to popularise organic farming, which will become an asset to the people of Gujarat, where he is bound to complete his new innings as the head of the state.
Motivated over 50,000 farmers to adopt natural farming
Governor is associated with this innovate idea of the Zero Budget Natural Farming project with the motive that farmers of the state would adopt organic farming. More than 50,000 farmers have adopted natural farming in Himachal and the Governor expected that the hilly state will become the first state to opt for organic farming by 2022. The project has been launched at Chaudhary Sarvan Kumar Himachal Pradesh Krishi, Vishvavidyalaya, Palampur, where Chief Minister Jai Ram Thakur lauded the efforts of the state of Sikkim and Himachal Governor making efforts to popularise organic farming. In this way, the Governor got full support from the state government which was aiming to follow Prime Minister Narendra Modi's vision to increase agriculture production and the income of farmers by 2022. According to the Governor, simple meaning of Zero Budget Natural Farming programme is related to a set of natural farming methods, under which the cost of growing and harvesting plants is zero. Acharya always tried to interact with farmers and informed them about the programme which involves almost no monetary investment and envisages the use of 'Jeevamrutha' and 'Beejamrutha' (sources of beneficial bacteria). He says that 'Zero Budget' refers to zero net cost of production of all crops, which means that farmers don't have to buy fertilisers and pesticides to ensure the healthy growth of crops.
(Writer is a political analyst. Views are personal)
Top Stories