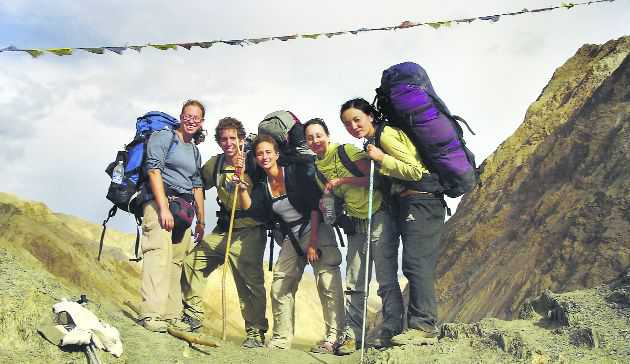 Dipender Manta
Often dubbed as the "valley of death" and "death trap" in many tourist journals and guides, the Parvati Valley in Kullu continues to attract foreigners in large numbers. However, around 20 foreigners have gone missing in the past three decades and only one Russian national's body has being traced so far.
Frantic appeals are made by hapless parents, even promising huge sums as rewards, to locals for providing any clue about their missing sons and daughters. The helpless parents venture into this completely alien world in search of their loved ones with the assistance of their respective embassies. However, they have had little luck as the list of missing foreigners in the "Valley of Gods" is only getting longer with not even a single one being traced till date.
The latest addition to this list is that of Polish national Bruno Mushchalik (24), who went missing from Manali on August 9, 2015. Not satisfied with the police efforts made to trace him, his father Piotr Mushchalik moved the High Court. Now, a Special Investigation Team (SIT) of the CID is probing the matter. A solo traveller, Bruno was to board a flight back home on August 22, but destiny willed otherwise, as he went missing while on his three-week trip to India.
The Parvati Valley attracts tourists from the world over, as it has gained notoriety with "easy availability of drugs and rave parties on full moon nights deep inside forests". Foreigners as well as India tourists venture deep into rural landscape with the most picturesque villages of Kasol, Tosh, Rasol, Malana and Manikaran offering hotels, guest houses and lodges with all one can wish for.
While some are attracted to the "Valley of Gods" for its challenging treks and striking natural landscapes, a sizeable number are here to be high on the world's best hash "Malana crème" adjudged as numero uno at Amsterdam. You name it and every drug — be it the best hash, extracted from cannabis, opium from poppy, brown sugar, cocaine, LSD, methedrine and other addictive synthetic drugs are readily made available. What makes the place the most-favoured destination is the easy availability of any kind of drug as peddlers make delivery at the shortest notice at your place of choice.
The best cuisine is dished out to cater to every nationality be it US, French, Australian or Scandinavian. Formally trained chefs, mostly Nepalese who move to Goa in the winter season and up in Kulu-Manali in summer season specially cater to the Israeli palate, who constitute the biggest chunk of foreign tourists. The possibility of international drug mafia being involved in the entire trade is not ruled out even by the police, as such links have been proved in the arrests of foreign nationals into the illicit drug trade.
Another interesting fact about Kullu-Manali is that the foreigners are so enchanted by the place that more than 50 of them have married locals and settled down here. Some, including an Italian, have been staying in the Naggar Panchayat for the last 25 years and work in the fields as his four children go to the village government school. The others who made India their home, too, have adjusted very well as they intermingle with villagers and respect and follow all customs and traditions like the locals.
Though it is hard to pin point one single reason for the mysterious disappearance of foreigners, the drug angle certainly cannot be ruled out. Besides this, taking up treacherous solo treks without any local assistance or guide, too, is proving to be a major reason for avid trekkers losing their lives. A Russian national Kesternov Vladislov went missing from Kasol in May 12, 2011, and his body was found in a gorge between Rasol and Chhalal on May 18, 2011. The police, however, does not rule out the possibility of theft in such cases, as most foreigners are equipped with sophisticated equipment such as cameras, telephones, watches and foreign currency.
The absence of strict regulations by the Tourism Department and the police in recording complete details of foreign guests is a major hindrance, which hampers search operations with specific details not being available.
Data culled out from the Kullu police shows that three Israelis, an equal number of Australians and US nationals have gone missing in the district since 1990. The maximum number of four foreigners went missing in 1995 with three in 1996 and two a year later. Barring one Russian tourist whose body was recovered from a deep gorge, mystery still shrouds the disappearance of 19 others.
The first case of missing foreign tourist was reported in August 1991, when Oddette Victoria Ann Houghton, a native of Australia, went missing in Manikaran valley. The last case of missing foreign trekkers was registered on August 21, 2016, when Justin Alexander Shetler, a native of United States went missing in Manikaran valley. The police have tried their best to locate the missing victim, but they have not had any success.
With almost the entire Kullu-Manali area being dependent on tourism sector for livelihood, be it in the form of hotels, guest houses, taxis, shops, adventure tourism and several other indirect benefits, locals are concerned about this aspect, They, too, want that such incidents do not happen as it brings a bad name to the place.
OTHER CASES
August 22, 2016: A US national Justin Alexander Shelter (35), went missing while trekking in the Parvati Valley. His friend reported his disappearance to the police on October 3. A lot of time had already been lost when the police were informed that there was no contact with him since then.
In 2011, two Israeli trekkers went missing in Parvati Valley. The missing trekkers — Dania Deckle and Daniel — were accompanying a team of eight and lost their way due to heavy rain, forcing them to take shelter in a village. These trekkers were on a trek from Kasol to Grahan on their own without taking assistance from the mountaineering institute in Manali or any private trekking company. This is not the first case of such trekkers who go on their own.
About 17 years ago, an Austrian national made an appearance after remaining missing for 12 years, when his parents and the Austrian embassy in India had lost all hopes of him being alive. The man had stated that he wanted to go missing out of choice so that he could live in complete peace. However, this is the only stray case, where a foreigner went missing out of choice and made a comeback when he chose to. However, none others have returned alive.
THE CASE IN FOCUS
In August 2015, Polish tourist Bruno Muschalik went missing in Manikaran valley. Bruno embarked on his three-week trip to India on July 30, 2015. He reached New Delhi airport on July 31. He had a return ticket from Delhi to Poland for August 22, but never made it back home.
On August 7, 2015, Bruno came to stay at Manalsu Guest House, Manali, where he spent two nights. He planned to leave the guesthouse on August 9 for a trip to the Manikaran Valley. He planned a two-day tour in Parvati Valley with a sleepover in a tent. His last message is dated August 9, Sunday morning. He wrote to his girlfriend that he has already packed his belongings, left some clothes in the guesthouse for laundry and is ready to leave. After this, his family and friends lost all contact with him. Bruno's father Piotr Muschalik came to Kullu with the hope of finding his son, but returned dejected. All his efforts to locate his son including announcing a reward of Rs 1.5 lakh to anyone who would provide any information about the whereabouts of his missing son, proved futile. The police constituted teams to locate Bruno, but to no avail. The then CM also arranged an aerial survey of the region to trace Bruno on the request of his father. All efforts of the police, however, failed to yield any results. However, it is only last week that a three-member SIT headed by the ASP (CID) was constituted on the directions of the court. In the recent hearing, the court expressed its dissatisfaction over the investigation in the case and directed the SIT to probe it with the help of experts. The court passed the order on a plea filed by Bruno's father, alleging that the police were not investigating the case properly. He demanded that the matter be probed by an independent agency. Two persons, who allegedly contacted Bruno on FB messenger before his mysterious disappearance, were arrested by SIT.
'It brings a bad name to state'
"The fact that foreigners are going missing is very unfortunate and brings a bad name to Kullu-Manali and the state. It is harmful and detrimental for the tourism industry, as there is negative publicity and this creates apprehension in the minds of visitors. There should be strict provisions to monitor the movement of foreigners, whenever they enter the country. Hoteliers or guest house owners should also cooperate and educate foreigners about safety measures they must adopt while leaving for an expedition in the area." — Anup Thakur, President of Hoteliers Association Kullu-Manali
'Tourists have no knowledge of local topography'
"The reason behind the disappearance of foreigners is lack of knowledge about the topography. Most of the time, they do not take help of local guides while moving around. The connection of foreigners with drugs trade, too, cannot be ruled out. To curb this, there is a need to keep a tab on their movement and make them aware about the drug mafia. They should inform nearby police station about their movement." — Kushal Bhardwaj, Travel Agent, Discover Himalaya
Top News
Pro-Khalistan activist Amritpal Singh has been on the run si...
Police officials yet to confirm whether this is the latest p...
The decision was taken during a Panthic gathering at Amritsa...
Can write to the Housing Committee seeking an extended stay,...
The suspect, likely a teenager, also died after being shot b...