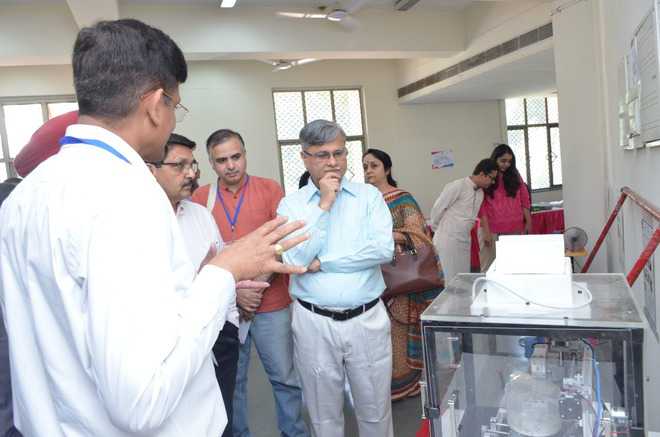 laxmi@tribune.com
Design Innovation Center (DIC), IIT Roorkee organised a Himalayan Summit on the Design Innovation Challenges in the Himalayan Region earlier this week. Various NGOs, scientists, academicians working in the Himalayan region shared their work during the summit. They highlighted various challenges being faced by them. This summit provided opportunities to different DICs to select their problems and identify potential field collaborators. The focus of this summit was the Himalayan region. Several issues related to the challenges in the Himalayan Region such as sustainable development, cottage industry, agriculture, livelihood, clean water, transportation, medical facilities, education and technological development were discussed in the summit.
442 students receive degrees at Ashoka varsity convocation
As many as 442 students received their degrees recently at the convocation of Ashoka University, that offers multi-disciplinary, liberal arts and science education.These included 303 students, who received their UG degree in Arts or Science, and 116 Young Ashoka Scholars, who successfully completed the fourth year of research and study. The occasion also marked the successful completion of Master's in Economics for the inaugural batch of 23 students who received their PG degree. The keynote speakers at the Convocation 2019 were Dr. Jonardon Ganeri, Professor of Philosophy, Arts and Humanities, New York University and Dr. Gita Gopinath, Economic Counsellor & Director of the Research Department, International Monetary Fund (IMF)
Placement time at Jindal Global Law School
The 2019 graduating class of Jindal Global Law School (JGLS), Sonepat, has got over 57 corporate law firm offers, 24 litigation offers, and 30 higher education offers from world class universities. The top recruiter from the 2019 graduating class of JGLS this year is with the leading corporate law firm, Trilegal with 10 offers, with Cyril Amarchand Mangaldas closely following with nine offers, followed by AZB & Partners, Luthra & Luthra, Khaitan & Co. Anand & Anand, Argus Partners, P&A Law Offices, Tempus Law Bharucha Singh Mundkur, and Economic Laws Practice.
The corporate recruiters for the 2019 graduating class include RBL Bank, Bajaj Allianz General Insurance Company, Kotak Life Insurance, & Morae Global, among others. In addition, JGLS students have secured positions in top think-tanks around the country, judicial clerkships, and positions at in-house legal departments. Over 60 organisations across various segments of legal industry have already recruited from JGLS this year. — TNS