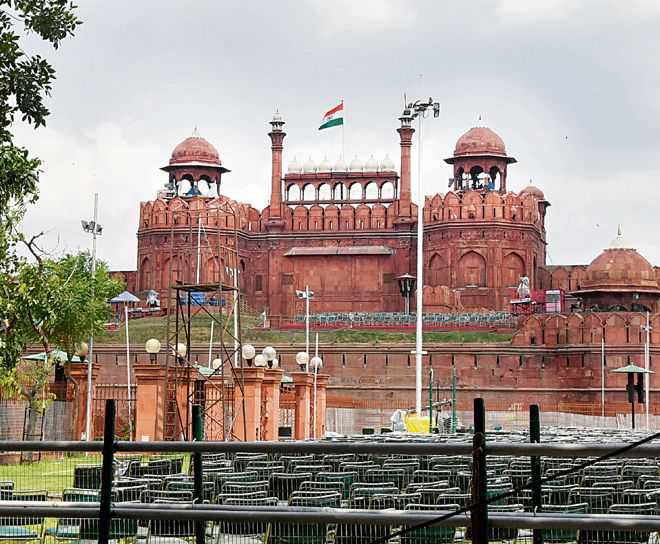 harinder@tribunemail.com
Tribune News Service
New Delhi, August 11
In the run upto the Independence Day celebrations, the Delhi Traffic Police has announced that traffic restriction will be in place for the 15th August function at the Red Fort.
Meanwhile, the traffic restrictions are also imposed for the full dress rehearsal on Tuesday. In its traffic advisory, the Delhi Traffic Police said that elaborate traffic arrangements had been made around the Red Fort.
According to the traffic advisory, detailed traffic deployment would be in place to facilitate the movement of VIP vehicles, invitees and general public to reach the place of function and also to ensure a safe and smooth flow of traffic in other parts of the city.
The police said more than half-a-dozen roads would remain closed, while traffic will be diverted on some roads on these days. Parking facilities would not be available at the Delhi Metro stations from 6 am on August14 to 2 pm on August 15 in view of the security measures adopted on the occasion of the Independence Day.
The following roads will be closed for general traffic from 4 am to 10 am and only labeled vehicles would be permitted. Netaji Subhash Marg from Delhi Gate to Chatta Rail, Lothian Road from GPO Delhi to Chatta Rail, SP Mukherjee Marg from HC Sen Marg to Yamuna Bazar Chowk, Chandni Chowk Road from Fountain Chowk to Red Fort, Nishad Raj Marg from Ring Road to Netaji Subhash Marg, Esplanade Road and its Link Road to Netaji Subhash Marg, Ring Road from Rajghat to Y Point Hanuman Setu.
During the celebrations alternative routes will remain open to railway stations, bus stations and hospitals near the venue of August 15 function. In addition to this, no cameras, binoculars, remote control car keys, umbrella handbag, briefcases, tiffin boxes or water bottles will be permitted.
No entry for general traffic
Following roads will be closed from 4 am to 10 am: Netaji Subhash Marg from Delhi Gate to Chatta Rail, Lothian Road from GPO Delhi to Chatta Rail, SP Mukherjee Marg from HC Sen Marg to Yamuna Bazar Chowk, Chandni Chowk Road from Fountain Chowk to Red Fort, Nishad Raj Marg from Ring Road to Netaji Subhash Marg, Esplanade Road and its Link Road to Netaji Subhash Marg, Ring Road from Rajghat to Y Point Hanuman Setu
Cities