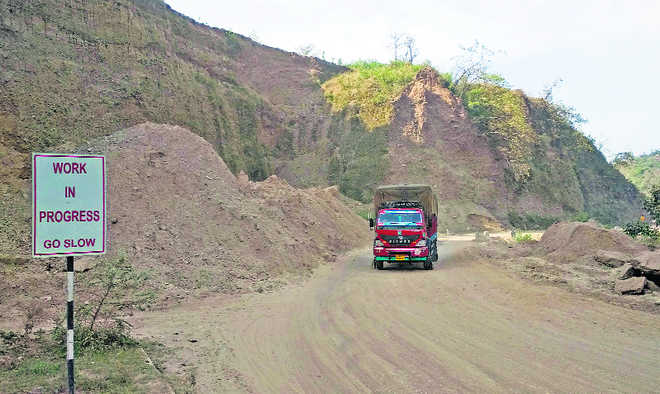 ROBINSINGH@TRIBUNE.COM
Dipender Manta
After seeing the plight of the displaced families and the attitude of various government agencies, I feel that fighting enemies across the border was far easier than the present situation, remarked Brig Kushal Thakur (retd), who commanded the 18 Grenadiers and brought laurels to the country during the Kargil War. He heads the Four Lane Sangharsh Samiti and contests claims of the state government of applying factor one for determining land compensation rates.
Inadequate compensation to four-laning project affected people between Kiratpur and Manali and the restrictions imposed by the National Green Tribunal (NGT) at Rohtang Pass and its vicinity have emerged has major poll issues in the Mandi Lok Sabha seat.
People affected by the four-laning project and NGT orders are a disgruntled lot, who are unhappy with the performance of sitting BJP MP Ramswaroop Sharma and incumbent government in the state as well as the Centre, as according to them they have failed to resolve the issues of the affected people.
Both Congress and the BJP candidates will try to woo voters of these affected families by promising to solve their issue if they support them in this Lok Sabha election. People affected due to the four-lane project are demanding four-times compensation for the loss of commercial and residential property besides agriculture land, which they lost for this project.
When Congress was in power in state, it did not consider the demand of the people to provide four-times compensation. It applied factor one for compensation and gave two-times compensation amount for the loss of property for affected people. It irked people, who then changed their mind to support the BJP in last Assembly elections because the BJP promised to solve the issue if it would come to power in the state.
The BJP came to power in state in 2017, but the issue of four-laning project affected families has not been resolved so far. Now, those affected are planning a strategy during the Lok Sabha elections to take a unanimous decision as to whom they should support in this Lok Sabha election.
Roads undoubtedly are the lifeline in the hills, but the two four-laning projects across the state seem to be bringing in more misery than succour, with thousands of people getting uprooted and losing their livelihood.
Even as there is virtual clamour among "netas" to take credit for getting the 167-km Kiratpur-Manali and 90-km Parwanoo-Shimla four-lane projects and 69 national highways (NH) approved for the state, there is simmering discontentment among the affected families. "Yeh to vikas ke naam per vinaash hai. Har ghar ki ladai court me ladi jaa rahi hain," remarks Bhagat Ram, who runs a shop in Aut market. His entire family has lost 60 bigha land, home and shop and is faced with a bleak future now.
The grouse of people is that the state government is diluting the provisions of the Right to Fair Compensation and Transparency in Land Acquisition, Rehabilitation and Re-settlement Act, 2013, in the projects being executed by the National Highways Authority of India (NHAI). This naturally has people up in arms against the state government as they are fighting for their rights under the banner of Four-Lane Sangharsh Samiti. Even as the affected families continue to echo their concerns and demand a fair deal, political parties, be it the Congress or the BJP, seem to be quite unconcerned, as for them people are nothing more than a vote bank, which they try to woo, each time elections are round the corner. Even though both Congress and BJP, in their election manifesto and vision document, respectively, had tried to entice the affected families by promising to give them factor two, which would entitle them to a four-times compensation, the promise is yet to be fulfilled.
State government reluctant
What has irked people even more is the fact that while it is the Centre (Ministry of Road Transport and Highways) which is providing land compensation rates, the state government is reluctant in applying factor two, which would entitle people to better land compensation rates. The present regime seems to be treading the same path taken by the previous Congress government in not applying factor two to save itself from giving higher rates for its own state roads to be constructed by the Public Works Department.
Worst hit villages
The worst affected villages include Thalot, Aut, Panarsa, Takioli, Nagwauin, Jhirri, Jiya and Dador. Almost 90 per cent of the market in Thalot, Aut, Panasra and Dador has been wiped off and most people have vacated their homes and shops.
Considering the immense tourism potential in Mandi-Kullu-Manali area, the land along the road has high commercial value for hotels, restaurants and eco resorts, many of which have been be wiped off to make way for the four lane. "We thought the British era Land Acquisition Act was a draconian law, but the new Act of 2013 seems no different, as we are being meted out a raw deal by giving us a pittance as land compensation," said Brajesh Mahant of Jhirri village.
Brig Kushal Thakur (retd), who commanded the 18 Grenadiers and brought laurels to the country during the Kargil War, also heads the Four Lane Sangharsh Samiti. He contests the claims of the state government of applying factor one for determining land compensation rates.
"Only circle rate is being taken into consideration and not market rate. Other factors like market value, commercial viability and productivity were not taken into account by the officials concerned while working out compensation," Brig Kushal Thakur (retd) points out.
Bahagat Ram, who runs a hardware shop, says he has received Rs 4.50 lakh per biswa as compensation, while the prevailing land rates are almost Rs 10 lakh per biswa.
With road connectivity being a pre-requisite for heralding economic prosperity, it is a normal practice in Himachal for villagers to voluntarily donate land to facilitate the construction of the road. However, the coming up of the four-lane projects being implemented with the financial health of the state looks quite grim.
If the plight of people is so bad in two four-laning projects, one can imagine what will happen when 69 NHs would be constructed and land acquired for it. As of now, the DPRs of the proposed NHs are being prepared which will determine the extent of land to be acquired and the number of persons to be displaced.
Both Congress and BJP are trying to woo the affected families to support them in this Lok Sabha election and resolve their issue on a priority if they come to power. There are over 10,000 families in Mandi-Kullu, who have been affected because of the four-lane project directly.
---
Project affected residents' grouse
The tenants, who fall in the category of livelihood losers have not been taken into account and identified. Their number is almost close to 10,000 between Sundernagar and Manali. Such people have not just been uprooted/ displaced, but have also lost their livelihood.
The 12 per cent interest rate payable from the issuance of date of notification is not being given now, though it was given earlier to some land owners.
While as per circle rate, people were being given about Rs 4lakh per biswa, the prevailing rate at which they have to buy land now is about Rs 8 to 10 lakh per biswa.
Despite there being special packages in the Act for vulnerable sections like the Scheduled Caste (SC) and Scheduled Tribe (ST), no such exercise has been done in this project.
Since the 60 days' notice has been issued to vacate premises and an additional seven days given to remove usable parts like doors and windows, house owners on their own moved out, without being re-settled.
NGT restrictions at Rohtang Pass hit 4,000 families
In Kullu district, restrictions were imposed by the NGT over tourist activity at Rohtang Pass, which is the favourite tourist destination in the region. It affected around 4,000 families in the region. The NGT restricted the number of tourist vehicles up to 1,200 (800 petrol and 400 diesel), while snow-scooter activity, horse riding and ATV activity were stopped completely at Rohtang Pass. Paragliding and ski activities were banned at the pass. It also remained the key poll issue in previous Assembly elections as both Congress and BJP promised to find a legal remedy to get some relaxation to resume tourist activities at Rohtang Pass and execute rehabilitation plan for the affected families. But the situation is grim so far, due to which people have strong resentment against the sitting BJP MP Ramswaroop Sharma and state government. Area residents said neither the state government developed new tourist destination in the area, nor the MP raised the issue with the state and Central government.
Earlier, over 4,000 taxis were allowed to ply towards Rohtang pass, which was the source of livelihood for taxi operators in Kullu-Manali. Similarly, around 4,000 families of Manali and its nearby villages like Palchan, Burua, Shnag and a few others were engaged in providing tourists activities like snow scooter, local dresses, skiing, ATV, horse riding, paragliding and others at the Rohtang Pass to earn their livelihood.
But after NGT restrictions, they lost their source of livelihood and are still waiting for the execution of the rehabilitation plan.
---
Peoplespeak
As per the spirit of the Act, post acquisition, the social and economic status of the displaced families must get enhanced. But in this case, it is the other way round. The law is good in spirit but its poor implementation on ground defeats the entire purpose. People are not opposed to development, but then they must be given a fair deal. We have given our representation to the state government and are hopeful that talks would be held as finding solutions is not difficult. There is a clear cut violation of the Act when possession is being taken without giving complete compensation and more importantly without rehabilitating and resettling the displaced families. I am of the firm opinion that people cannot be evicted till they are rehabilitated. Giving factor one is illegal as ruled by the Maharashtra High Court. Moreover, 14 states are giving more than factor one, while seven BJP-ruled states are giving factor two.— Brig Kushal Thakur (retd), Head, Four-Lane Sangharsh Samiti
People have strong resentment against the BJP and Congress as both failed to solve the issue. There is a need to develop new tourist destinations in Kullu district to rehabilitate affected families, but there is no progress in this direction. BJP MP Ram Swaroop Sharma adopted Old Manali village, but during his tenure, he even failed to provide sewerage connectivity in the village. He assured to start Udan Yojana in Kullu to boost tourism sector, but till now, it could not be started. Due to poor road infrastructure in the state, we urged the MP as well as the state government to strengthen air connectivity at Bhuntar. But no progress has been made in this direction as well. These issue will haunt the BJP and the Congress, which will be a decisive factor for a candidate's win.— Anup Thakur, President of Hoteliers' Association Kullu-Manali
If I come to power, I will take up the matter of four-lane affected people with the state and Central governments effectively. The adequate compensation is the right of people and every effort will be made to execute it. On NGT issue, my focus will be to promote eco-tourism in the region. — Ashray Sharma, Congress candidate from Mandi.
I have raised the issue of four-laning project with the state government and urged the CM to provide adequate compensation for the loss of property and agricultural land. Similarly, the issue of NGT restrictions at Rohtang Pass was also raised with the state and Central governments. The CM is taking both issues seriously. As a result, sub-committees were formed to resolve the four-laning issue. Similarly, the NGT issue was also taken up in the Supreme Court to seek relief for the affected people. After coming to power, I will fight for the rights of four-lane project affected people as well as those affected by the NGT orders in Kullu district in the state and Centre to provide them their dues. — Ram swaroop Sharma, Sitting BJP MP
We thought the British era Land Acquisition Act was a draconian law, but the new Act of 2013 seems no different, as we are being meted out a raw deal by giving us a pittance as land compensation. — Brajesh Mahant, Jhirri village resident
The cost of the project is estimated to be about Rs 6,000 crore and the completion target is 2021. We are also keen that the displaced people get adequate compensation and this is being done strictly as per law. However, whether factor one or two is to be applied to work out the land compensation rates is a decision taken by the state government. — Col Yogesh (retd), Project Director, NHAI