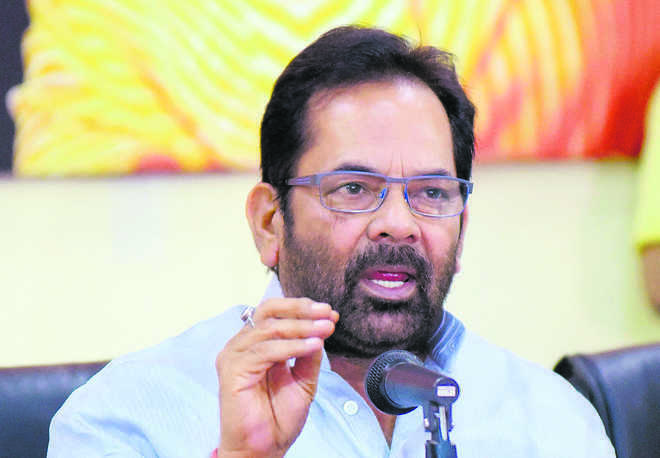 Vibha Sharma
Tribune News Service
New Delhi, October 15
Minority Affairs Minister Mukhtar Abbas Naqvi has called India a "heaven" for minorities, echoing the thoughts of RSS chief Mohan Bhagwat who had recently said that "happiest Muslims in the world are found in India, thanks to the Hindu culture". This had led to a heated debate.
"India is heaven for minorities while Pakistan has proved to be hell for minorities," Naqvi said, adding that the country under Narendra Modi had become a "role model" for "inclusive growth and positive progress".
Naqvi was inaugurating the annual conference of the state channelising agencies of the National Minorities Development and Finance Corporation (NMDFC).
Naqvi said, "The Modi government has been working on a war footing to provide quality and affordable education, employment-oriented skill development and basic infrastructure to every needy person. Priority of the government is to provide affordable and quality education to all needy sections of society, including minorities, and their economic empowerment through employment-oriented skill development."
Last Saturday, Bhagwat had said, "Happiest Muslims in the world are found in India, thanks to the Hindu culture."
"When Jews were wandering, India was the only nation where they got shelter. Parsis practise their religion freely only in India. The happiest Muslims are found in India. Why is it so? Because we are Hindus," the RSS chief was quoted as saying in Bhubaneswar.
His comments created a storm on social media.
All India Majlis-e-Ittehadul Muslimeen (AIMIM) chief Asaduddin Owaisi said Bhagwat "could not erase my history" in India and that Muslim culture and faith could not be "subsumed" by Hinduism.
"Bhagwat cannot erase my history in India by renaming it 'Hindu'. It won't work. He cannot insist that our cultures, faiths, creeds & individual identities all be subsumed by Hinduism. Bharat na kabhi Hindu Rashtra tha, na hai, na hi kabhi banega Inshallah," he tweeted.
Top Stories