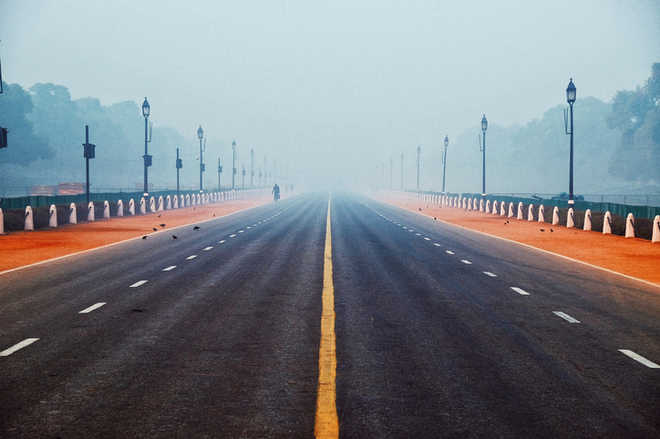 harinder@tribunemail.com
Hari Krishan Chaudhary
I wake up and go down the elevator from my eighth-floor flat and see cars lined up and parked in perfect symmetry, leaving enough space so that doors do not bang into the other while opening. Taking out my vehicle with ease, I drive into the road. The morning traffic is sparse. Some morning walkers with dogs on leash are carrying poop bags to use when needed.
The spic-and-span road opens into a highway. A car in front of mine is displaying on the rear windscreen 'Car sharers inside'. It is packed to capacity with office-goers. I stop at a traffic light. The cop standing unobtrusively smiles, but his eagle eye watches people using the zebra crossing. A visually challenged man is helped to cross the road. Strangely, the cop does not have a challan book in his hand.
A beggar taps on my car window. Two cops come and take him away into a waiting Gypsy. Other beggars vanish into a side street. I reach a shopping mall. Parking charges are nominal, and as I come out of my car, a lift man is waiting for me to get in and take me to the floor I desire.
I go to a movie theatre. People are leisurely entering the hall and taking their seats. Light music is in the air. No blaring trailers of the forthcoming shows. As everyone is seated, the film starts without making you go through ads of dangers of tobacco with a dissected cancerous face staring at you.
The shops are inviting. The salesmen do not inquisitively watch you and throw at you questions about your requirements. They let you quietly see the wares and window shop till you zero in on your picks. I fill my trolley and as I am billed, my goods are neatly packed and placed to be carted away to my car.
The roads are strangely silent, as if all horns have broken down. The air is clean and healthy. The local buses have passengers comfortably seated. The bus shelters have passengers sitting in rows, who rise when the bus arrives, in a perfect queue. There are more buses than cars on the roads. An ambulance overtakes me. Its lights are blinking. Vehicles give way to let it pass quickly, saving precious time for somebody inside.
A cavalcade of cars escort a VIP but no horns are blaring. No gun-toting policemen stare at you oppressively. Instead, the cars slow down and seamlessly move with the traffic. I drive effortlessly listening to Chitra Singh's 'Humko dushman ki nigahon se na dekha kije'.
A popular DJ announces on the FM that there are no traffic jams anywhere in the city, as if it is a routine announcement. Drive at your pleasure and not at your risk, she says in her sonorous voice.
I don't want to pinch myself out of this dream sequence as I drive back home leisurely.
All readers are invited to post comments responsibly. Any messages with foul language or inciting hatred will be deleted. Comments with all capital letters will also be deleted. Readers are encouraged to flag the comments they feel are inappropriate. The views expressed in the Comments section are of the individuals writing the post. The Tribune does not endorse or support the views in these posts in any manner.
Top Stories