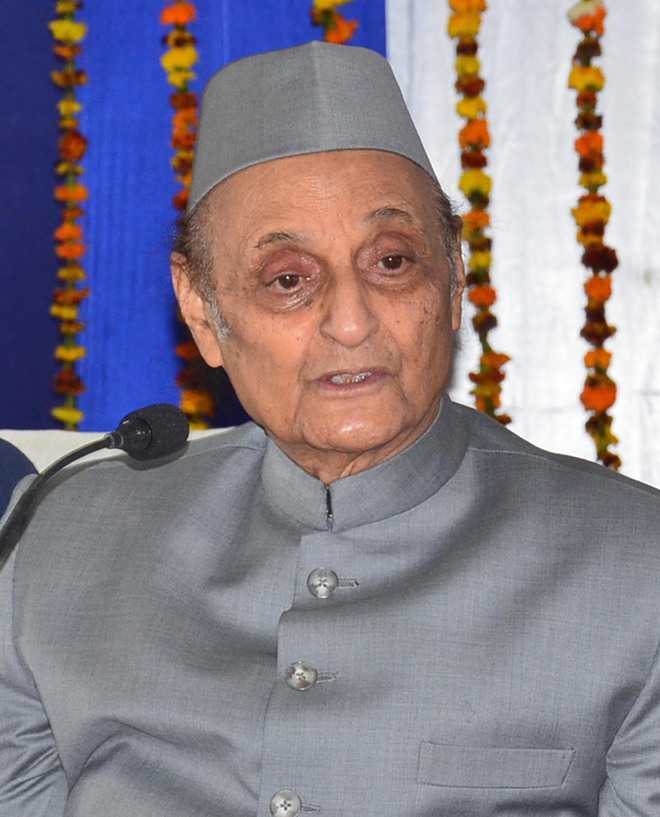 Arun Joshi
Tribune News Service
Jammu, April 2
The special status to Jammu and Kashmir was given by the Government of India, it is not that the state had asked for it, the former Sadr-e-Riyasat (head of state), Dr Karan Singh, has said, while dismissing the notion that J&K got special powers to guarantee the Muslim majority character of the state.
"There was nothing like that," the veteran politician said in an interview to The Tribune. "The word was never used. It is not that we said that we are a Muslim majority state, that's why we should get special status. The fact is that the special position was offered by the Government of India. Don't forget that."
Dr Karan Singh, as head of the state, had signed the Constitution of Jammu and Kashmir in 1957. He recalled how a Pakistan-sponsored war in J&K (1947-48) in violation of international law and United Nations resolutions came in the way of the merger of the state with India after it had acceded to the country.
The debate on accession and the special status of J&K has been ratcheted up with Prime Minister Narendra Modi joining issue with National Conference vice-president Omar Abdullah over the restoration of posts of Sadr-e-Riyasat and Wazir-e-Azam (head of government) of the state. These posts existed in J&K until 1964.
Recalling that the "instrument of accession signed by his father Maharaja Hari Singh was identical to that signed by other princely states", Dr Karan Singh said "there was a two-part tango as far as other states were concerned".
"First was the accession, and then Sardar Patel's role in integrating the states. Getting the accession done was by itself important, the second step was merging with the Indian republic. And that we didn't do."
The reason for that, he said, was that "there was a war on in J&K, the matter was in the UN. They were passing all sorts of resolutions, at that time the question of merger did not arise".
He went on to add: "In fact, the special position for J&K was agreed that time and that's why Article 370 was put in the Constitution, specifically because there was no merger to ensure the relationship of the state with the rest of the country." He dismissed the suggestion that it was a mistake.
"No, it was not a mistake, that was a historical process. It was not a normal situation in J&K, half the state was under their control (Pakistan). It was not like other states. The special position of the state was there," Dr Singh, who quit Raj Bhavan in 1967 to join politics, said.