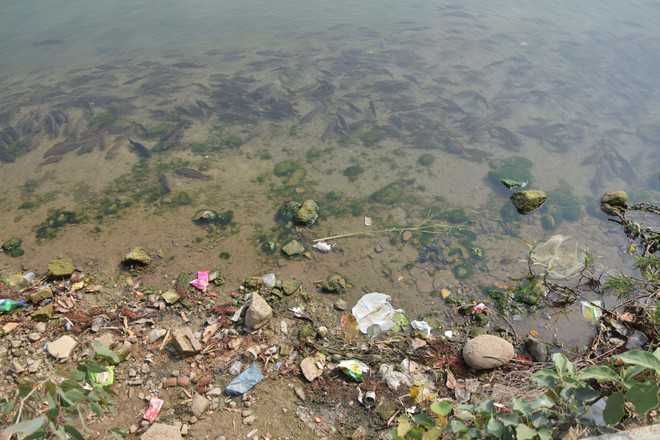 Sumit Hakhoo
Tribune News Service
Mansar Lake, April 15
In an estimated 12,000 years of existence, Mansar Lake, one of the largest freshwater lakes in the Shivalik range of the Jammu region, is facing an existential threat due to human intervention and climate change.
The lake, at an elevation of 600 metres in Samba district, nearly 60 km from Jammu, is being ruthlessly exploited for water along its catchment area, creating hostile conditions which, according to scientists, could pave way for its demise.
Despite the establishment of a separate management body, the Surinsar Mansar Development Authority in 2006, the lake is in a neglected state. A visit to the lake is itself a harrowing experience. From a distance, it gives a majestic look but on moving closer, one can see its poor state.
Plastic bottles and polythene bags litter the lake at several places and fishes and freshwater turtles found in the water can be seen scavenging the dangerous plastic material. The water body is slowly poisoned by the use of pesticides in the surrounding farmland, direct influx of untreated sewage water and solid waste generated by eateries and hotels.
Prof RK Ganjoo, Department of Geology, University of Jammu, who has conducted a research on lake sedimentation in the Himalayas, said pollution due to human action was alarming at the lake. "Pollution and decline in rainfall during the monsoon for the past few years are a major worry for the health and future of lakes in J&K. If there is a drought for an extended period, the lake may slowly dry up," Ganjoo said. Local villagers, who have great reverence for the water body, considered as the abode of 'sheshnag', a mythical creature mentioned in ancient Hindu texts, seem unaffected by the slow destruction of the lake.
"Rainfall has declined but the needs of people have increased. The government has constructed drains to channelise rainwater but no plan has been made to prevent sewage water from hotels and houses from going into the lake. Dirty water will pour into the water body. There is no option," said Bodh Raj Goswami, who was sitting with a group of people on the lake shore. Bachan Lal, another villager, quipped, "People have no choice. Being a Kandi (drought-prone) area, we are either dependent on rains or on the lake for survival. Authorities say they don't have enough funds to develop the area." None of the officials from the Surinsar Mansar Development Authority were available for a comment despite repeated attempts.
Top News
Pro-Khalistan activist Amritpal Singh has been on the run si...
Police officials yet to confirm whether this is the latest p...
The decision was taken during a Panthic gathering at Amritsa...
Can write to the Housing Committee seeking an extended stay,...
The suspect, likely a teenager, also died after being shot b...