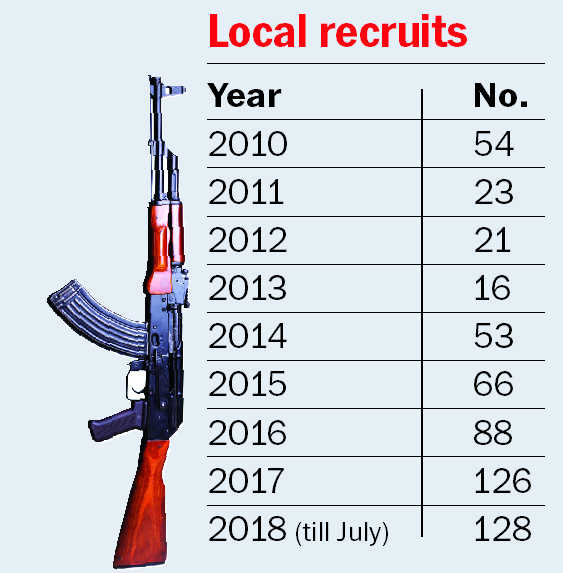 Majid Jahangir
Tribune News Service
Srinagar, August 9
In what may set the alarm bells ringing for security agencies, the number of local youths picking up arms in the Kashmir valley in the first seven months of this year has already surpassed the figures for the entire 2017.
Police figures suggest that at least 128 youths have so far joined militant ranks this year. Last year, 126 youths had picked up arms, then the highest since 2010.
While security forces are trying to woo back local militants, it seems to have had little impact on the ground. The highest number of recruits, nearly 90 per cent, has come from volatile south Kashmir districts of Pulwama, Shopian, Kulgam and Anantnag.
Nearly two dozen new militants, mostly ill-trained in warfare, have been killed in various operations, a police officer said.
J&K Police's two wings — intelligence and zonal police — separately keep count of militancy-related data. Once a youth goes missing, either the family approaches the police or his picture with a gun surfaces on the social media. The police then crosscheck with sources before listing the youth as a militant.
Twin districts of Shopian and Pulwama account for nearly 70 new recruits.
The spurt in militant recruitment in south Kashmir follows two major gunfights on April 1 that left 13 local militants, including top local commander Saddam Paddar and professor-turned-militant Mohammad Rafi, dead. This year, the security forces have killed nearly as many militants in hinterland and the Line of Control in various operations. "We have carried many successful operations this year, but youths continue to get lured to militancy, which is worrisome," a police officer said.
The local recruitment started picking up after the killing of militant commander Burhan Wani in 2016.
A majority of these youths have joined Hizbul Mujahideen, followed by Lashkar-e-Toiba. The Azhar Masood-led outfit Jaish-e-Mohammad has taken in at least 25 new recruits.
"At least nine have joined Al Badr, which was almost defunct," a police officer from south Kashmir said.
Educated being lured
In Jan, PhD scholar Mannan Wani joined militancy
2 months later, MBA Junaid Sehrai took up arms
In May, KU asst prof Mohd Bhat joined militant ranks. He was killed in Shopian 36 hours later
IPS officer's brother Shamsul Mengnoo, pursuing BUMS, also joined militancy
Top News
He said people had not elected him to listen to 'hate speech...
Lok Sabha Speaker warns Bidhuri of strict action
India has also lodged a strong protest in New Delhi and Beij...
Kakar said that the UN Security Council must secure the impl...
No 'special exemption', says Biden adviser