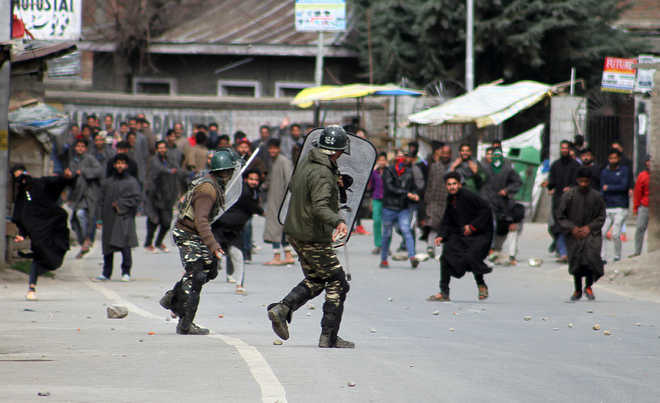 Suhail A Shah
Anantnag, March 24
Two Jaish-e-Mohammed (JeM) militants, believed to be foreign nationals, were killed in an overnight encounter with security forces in the Dooru area of Anantnag district, some 85 km from the summer capital Srinagar.
"Preliminary investigations suggest that both slain are from Pakistan," said a senior police officer from the district.
According to the police reports, a joint cordon and search operation was launched in Shistergam village of Dooru on Friday evening following inputs about the presence of militants in the area.
"As the cordon was being laid, the militants, who were hiding in a house, opened indiscriminate fire and tried to escape," the police officer said.
The fire was duly retaliated, triggering a gunfight, he said, adding that the militants then took position in an orchard nearby.
"They were subsequently killed in the early hours of Saturday," the police officer said. "Some incriminating material, AK-47 rifles and grenades were recovered from them."
The bodies of the slain militants, as per police sources, have been sent to Baramulla district in north Kashmir for burial at an undisclosed location after medico-legal formalities.
Local sources said there was a lull in the firing after the initial burst of fire.
"The firing resumed in the wee hours of Saturday briefly before the guns fell silent," they said, adding that hundreds of residents rushed to the encounter site and clashed with security forces at the break of dawn. The clashes continued in the area for most part of the day.
Meanwhile, thousands offered a funeral prayer in absentia for the two slain militants.
A complete shutdown was observed in most parts of Anantnag district with clashes being reported from a few places.
The JeM issued a press release owning the men killed in the encounter. "Their sacrifices will yield results," the Jaish statement read. It further read: "The killing of the martyrs will be avenged. We will continue to fight."
Top News
Terms UPA 2004-14 period a 'lost decade', hit by scams | Ste...