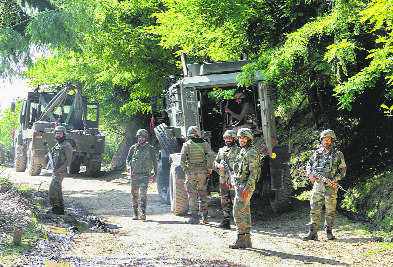 Our Correspondent
Anantnag, May 28
Two Jaish-e-Mohammed (JeM) militants were killed in a gunfight with security forces in the Kokernag area of Anantnag district on Tuesday. The identities of the slain militants are yet to be ascertained.
"We have retrieved the bodies and recovered arms and ammunition from them. We are trying to ascertain their identities," said a senior police officer in Anantnag.
The police officer said the initial leads suggested that one of the slain militants was a foreigner and another was a local. "We had prior leads that they belong to the JeM," the officer said.
The gunfight erupted around 1 pm in the Kazhwan forest area of Kokernag in Anantnag. "We had prior inputs regarding the presence of militants in the area. Acting on the inputs, a cordon and search operation was initiated in the forest area on Tuesday morning," the officer said.
He said the contact with the militants was established after searches were carried out in the forest area for a couple of hours. "The militants opened fire to try to escape but the fire was retaliated and both militants were gunned down in the brief exchange of fire," the police officer said.
He said the bodies were retrieved and had been taken to the Anantnag main town for the identification process and other medico-legal formalities.
Meanwhile, as news of the gunfight spread in the area, some local youths assembled in Andoo village near the forest area and tried to march towards the gunfight site.
The youths threw stones at security forces, who fired tear-smoke shells and pellets to disperse the protesting youths. No one was, however, injured in the clashes.
Top News
Over 1,100 injured, 56 of them grievously
Indigenous anti-collision train protection system was introd...
Had flagged ministry's laxity, sought definite time frame fo...