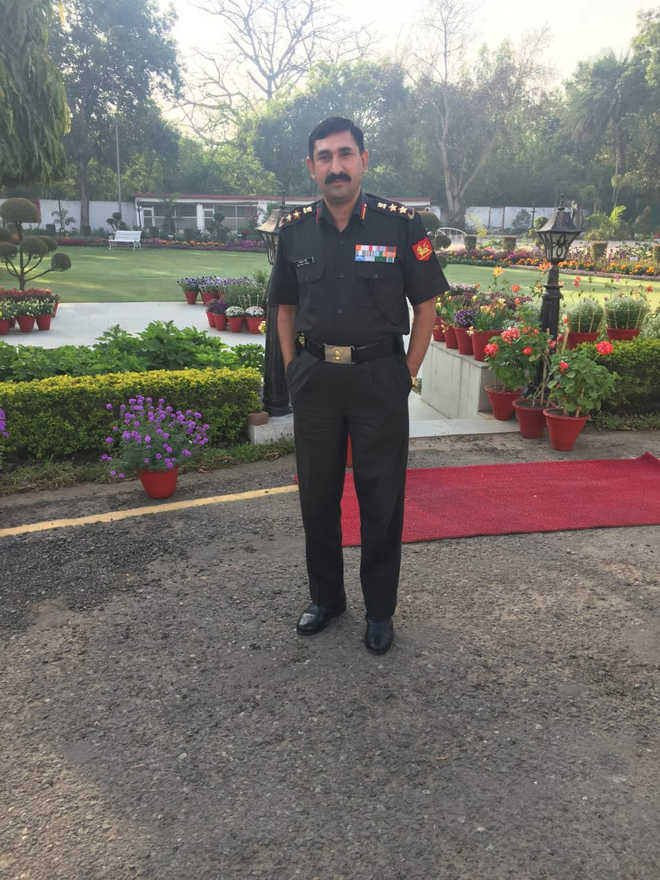 Amir Karim Tantray
Tribune News service
Jammu, June 19
It has been 20 years since the Kargil war, when valiant forces of the Indian Army, fighting difficult terrain coupled with indifferent weather conditions, defeated the enemy sitting on an advantageous position. This is also the time to remember the brave who made it possible.
One such brave officer, who was awarded Maha Vir Chakra (MVC) for his service, is Colonel Balwan Singh Panghal. He was a lieutenant during the Kargil War and an indispensable part of 18 Grenadiers unit, under whose command the Army had successfully launched the assault on the Tiger Hill.
He, along with his platoon, was instrumental in regaining the supremacy of Indian Army in the area, where the enemy was keeping a close watch on every movement of the Indian forces and was inflicting damage.
Talking to The Tribune, Col Balwan Singh Panghal, who is posted in sub-area Ambala now, shared memories of the war and the efforts that went in to capture the Tiger Hill and turn the tide in the country's favour.
Belonging to Sasroli village in Jajhar district of Haryana, Col Panghal became a household name across the country in general and Haryana in particular at that time.
Giving details of the operation, Panghal said, "Firstly, our platoon was given the task of capturing Tololing post, from where the enemy was continuously monitoring our movement and was attacking the Srinagar-Leh national highway. Moving through a difficult terrain in a freezing weather, we managed to get back Tololing in 22 days but we lost our two senior officials in the assault, Lt Col R Vishwanathan and Major Adhikari, and 23 other soldiers."
"After that, we were assigned the task to get back the Tiger Hill. We started the operation on July 2, 1999, and on July 4, after a five-hour fierce gun battle, we claimed it back but lost nine soldiers," the Colonel said.
He, along with 24 other soldiers, had led the assault on Tiger Hill and it was the most difficult part of the operation, as several other assaults had been unsuccessful.
"When we started the assault, firstly only seven soldiers managed to reach one of the posts on Tiger Hill and they killed 30 to 35 Pakistani soldiers, but out of these seven soldiers, six died and only Sepoy Yoginder Singh Yadav (now Subedar) managed to come back in critical condition. During the final assault, we managed to capture the Tiger Hill without losing any soldier," he stated.
It was his planning and the crucial information provided by Sepoy Yoginder Singh Yadav after returning from the enemy post which enabled Col Panghal to capture the Tiger Hill.
Top Stories