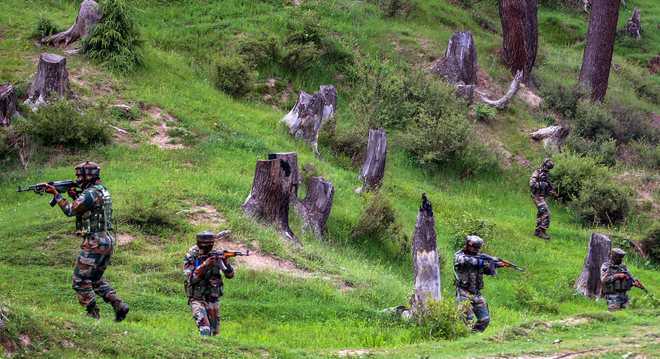 Amir Karim Tantray
Tribune News Service
Jammu, August 12
Even though the intensity of firing on the Line of Control (LoC) has come down and the International Border (IB) is witnessing peace, the ceasefire violation by Pakistan on the borders this year has been the highest in the past eight years.
The ceasefire violations have also led to major casualties to civilians and security forces.
According to official data, Pakistan has violated the truce agreement this year on both LoC and IB over 1,432 times, killing 59 security personnel and civilians.
"Of the 1,432 ceasefire violations, the Pakistan Rangers have violated the agreement 490 times on the IB alone," said the data released by the government a few days ago.
When the data was released, the casualty count stood at 55. The death count has, however, increased with the killing of the four soldiers, including a Major, in the Gurez sector on Tuesday, taking the number to 59.
India shares the 198-km-long IB with Pakistan in the Jammu region, while the LoC, the dividing line between Jammu and Kashmir and Pakistani-occupied Kashmir, is 740 kilometres long.
The LoC is the most volatile border in the state which sees ceasefire violations, infiltration and narcoterrorism. The IB is manned by the BSF while the LoC is under the operational control of the Army with the BSF battalions posted at a few places.
As many as 133 infiltration attempts have been made this year. Of them, 69 have been successful.
According to the data, Pakistan had in 2017 violated the truce agreement 771 times on both LoC and IB and 449 times in 2016. The figure was 405 in 2015, 583 in 2014, 405 in 2013, 347 in 2013, 114 in 2012, 62 in 2011 and 70 in 2010.
Around 30 people, including security personnel, were killed in 2017.
Since May-end, the IB has seen relative calm and the intensity of firing on the LoC has decreased.
Peace pact violated 1,432 times
* Pakistan has violated the truce agreement this year on both LoC and IB over 1,432 times, killing 59 security personnel and civilians
* In 2017, Pakistan violated the truce agreement 771 times on both LoC and IB and 449 times in 2016. The number of ceasefire violations were 405 in 2015, 583 in 2014, 405 in 2013, 347 in 2013, 114 in 2012, 62 in 2011 and 70 in 2010