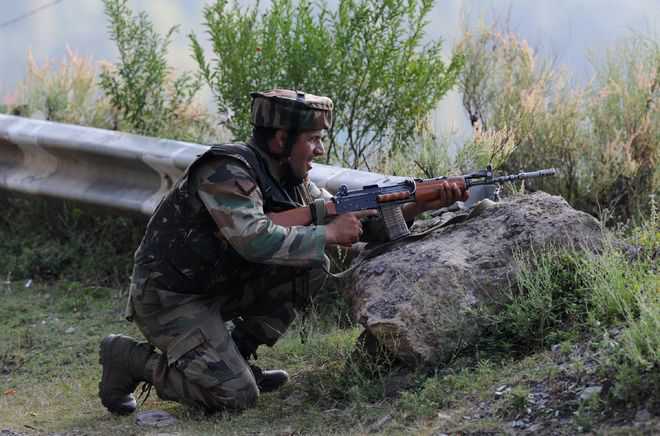 Majid Jahangir
Tribune News Service
Srinagar, August 18
At least three unidentified militants were killed in a gunfight in the Tangdhar sector in north Kashmir's frontier district of Kupwara when they were trying to infiltrate into the Valley, defence officials said.
The gunfight erupted on Saturday evening at Balthdiayan, Tangdhar, over 180 km from Srinagar, when the Army noticed suspected movement close to the Line of Control (LoC).
"When challenged militants opened fire, triggering a brief gunfight. During the search operations, three bodies of the militants were recovered," Srinagar-based defence spokesman Col Rajesh Kalia said.
The combing operation in the dense forest area is still underway.
Police sources said two or three militants who were part the group may have returned after the incident.
The Tangdhar sector has been witnessing frequent ceasefire violations since August 13. However, the Saturday evening gunfight was in a different area in the Karnah region.
For the fourth consecutive night on Friday, Pakistan violated ceasefire and resorted to shelling in the Tangdhar sector that left two people injured, officials said.
Tensions started mounting in the Tangdhar sector after an Army man was killed along the LoC on August 13 allegedly in a Pakistani sniper fire. The Army had, however, maintained that the soldier was killed while foiling an infiltration bid. A day later, the Army had claimed it killed two Pakistani soldiers in "retaliatory action".
The cross-border shelling started at 9 pm on Friday and the exchange of fire continued till 4 am.
"Pakistan violated the ceasefire again on Friday night and the two sides exchanged heavy and small arms," Senior Superintendent of Police, Kupwara, Ambarkar Shriram Dinkar said. "Two civilians received minor injuries at Gabra during the shelling," he added.
The continuous exchange of fire during the past four nights has spread panic among the residents in at least a dozen villages. The villages worst hit by the shelling include Hajitra, Dhanna, Gabra and Forward Sudpura.
Locals said rooftops of many houses and crops had been damaged in the shelling.
"During night, we get really scared," a resident from Tangdhar said over phone. "For the past four nights, heavy exchange of fire and shelling begins around 9 pm and intermittent exchange of fire continues till morning. Our day-to-day life has been disrupted since the resumption of cross-border shelling," he said.
Defence officials said the exchange fire was frequent in the recent past and was initiated by the Pakistan army "to provide cover for infiltrating militants by pinning down Indian posts".
Meanwhile, a massive combing operation is underway near the LoC in the Gurez sector of Bandipora district.
Police sources said on Friday night, some shots were heard from the forest area near the LoC.
Truce violated in Uri
Pakistan violated ceasefire in the Uri sector of Baramulla district on Saturday. The police said some mortar shells were fired by the Pakistan army into the Thajal-Churanda area of Uri. "A shell hit the washroom near the house of one Mohammad Hussain at Thajal, causing some damage to it," a police officer said. There was no report of any casualty in the cross-border shelling
MLC's guard attacked
Militants attacked a residential guard of MLC Showkat Hussain Ganie at Chitragam, Shopian, in south Kashmir. Security sources said the police guards retaliated and compelled the attackers to retreat. A policeman was also injured in a stone-throwing incident in south Kashmir's Pulwama district
Top Stories