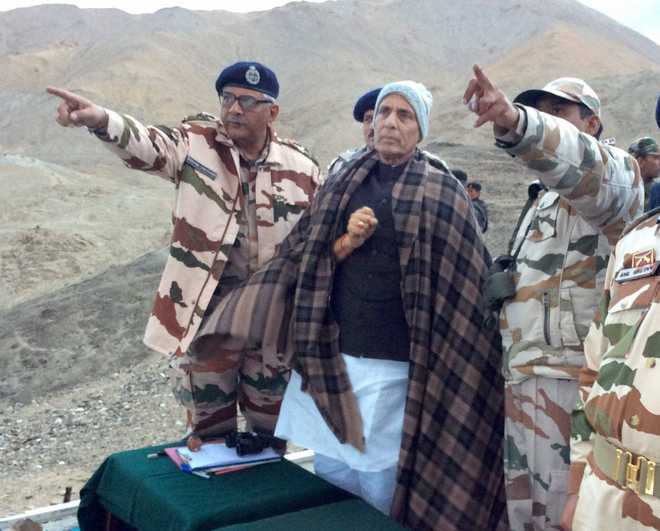 Leh, September 23
Three key roads in Ladakh that gave access to security forces to several strategic locations, including Siachen, will soon be constructed, with Home Minister Rajnath Singh ordering expeditious completion of the work.
The directive was given after the two-day visit of the Home Minister to Ladakh region where he had a first-hand experience about the difficult life in inhospitable terrain in the icy heights of Himalayas along China border.
The roads connecting Leh-Demchok, Chuchul-Luma and Durbuk-Trijunction, which leads to the Siachen base camp, will be constructed as early as possible, official sources said.
All other roads having strategic importance will also be expeditiously constructed as the Home Minister has given necessary directions to concerned agencies.
Singh, who spent two nights, including one at ITBP border post Dungti, located at an altitude of 13,648 feet above sea level, also ordered construction of infrastructure for improving mobile telephone network in the region.
The Home Ministry's project for construction of 27 roads for the movement of troops of the Indo-Tibetan Border Police (ITBP), which guards the Sino-Indian border, has been very slow as only three roads have been built till last year end.
The roads are to be constructed along the border in Jammu and Kashmir, Arunachal Pradesh, Sikkim and Uttarakhand.
The plan envisages construction of 804 km of roads and the project will cost an estimated Rs 1,937 crore. However, just 200 km of the road has been constructed so far.
During the visit, Singh had to abandon his helicopter and take a road trip to Dungti, some 200 km from here. It took seven hours for the Home Minister to reach the destination, which is just 3 km from the Line of Actual Control and situated on the bank of Indus.
Singh became the first Union Home Minister to spend a night at a border outpost that has very basic infrastructure.
The Home Minister and Director General of ITBP Krishna Chaudhary slept in two available beds while rest of the entourage had to sleep in sleeping bags in very cool environment at 5 degrees Celsius. PTI
Top News
Pro-Khalistan activist Amritpal Singh has been on the run si...
As soon as the House meets for the day, Congress members wea...
Opposition members attend a meeting called by Rajya Sabha Le...
Says the amount of compensation has been enhanced by 25 per ...
The police have invoked the NSA against him