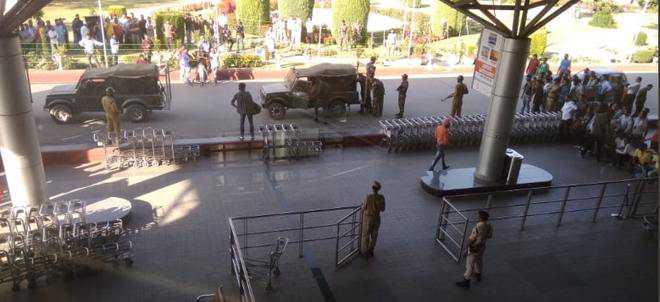 M Aamir Khan
Tribune News Service
Srinagar, September 14
More than 35 years after scenes of a popular Bollywood movie 'Silsila' starring Amitabh Bachchan and Rekha were shot at Srinagar Airport, a web series crew came here for a shoot on Friday.
"Silsila was the last movie shot here more than 35 years ago. Manoj Bajpayee along with his crew shot for 'The Family Man' at the airport on Friday. This is positive news," said Akash Deep Mathur, Director, Srinagar Airport.
He said the web series, 'The Family Man', would be released in around 200 countries and it would help in reviving the tourism sector besides encouraging more film-makers to shoot in the Valley.
"Nowadays web series are very popular and this will be released in 200 countries," Mathur said, adding that it would send positive vibes across the globe and help in attracting tourists and Bollywood to the Valley.
Pertinently, the Kashmir valley used to be the second home of Bollywood before the eruption of militancy nearly three decades ago. Though the Hindi film industry has off late started to make a gradual comeback to the Valley, no shooting was done at the airport in the meantime as per the authorities.
The government, especially the tourism stakeholders, too are wooing Bollywood so that they as well as tourists start coming to the Valley in large numbers.
Secretary Tourism Rigzin Samphel had also met Manoj Bajpayee on Wednesday here and urged him to play a role in promoting tourism and removing the negative perception about Kashmir.
Samphel said Kashmir used to be the most sought-after destination for the film industry once and now the government was taking serious initiatives to revive the "glorious old connection".
Top News
Asks not to spread fake news amid reports of her distancing ...
'US-India partnership is a cornerstone for a free and open I...
Rehana Fathima, a woman's right activist, was facing charges...
On August 3, 1991, Congress leader and brother of former MLA...
Injured admitted to hospital in Imphal where their condition...