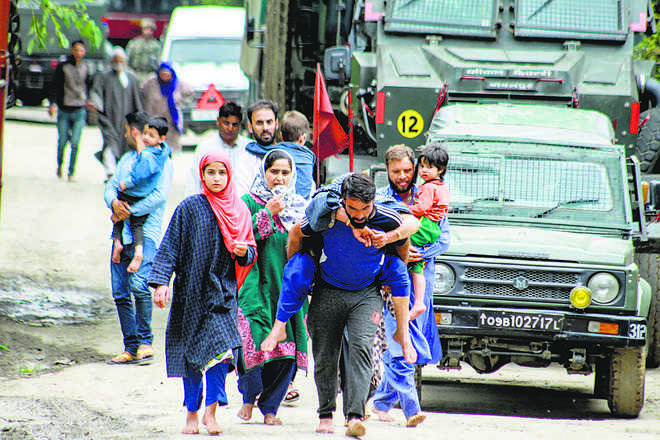 Suhail A Shah &
Majid Jahangir
Tribune News Service
Anantnag/Srinagar, June 22
Four radicalised militants, a policeman and a civilian were among six killed in an early morning encounter at Nowshehra village of Srigufwara in south Kashmir's Anantnag district on Friday. The dead included 33-year-old Dawood Ahmed Sofi, "commander of the Islamic State Jammu and Kashmir (ISJK)".
The J&K Police claim the four slain militants were "inspired by IS ideology" and had been active for the past few months. This is the first time that the police have admitted to "IS-inspired militants" operating in Kashmir.
"All four were inspired by Islamic State ideology. The IS has no infrastructure or cadre here," J&K Police chief Shesh Paul Vaid told The Tribune. However, IS-linked Amaq News Agency called the slain militants "soldiers of Islamic State".
Earlier this year, the Government of India had denied IS' presence in Kashmir.
The encounter broke out around 6 am when a cordon and search operation was launched after inputs about the presence of militants in Srigufwara. The gunfight continued till late afternoon.
"As a joint patrol moved towards a suspected house, terrorists hiding inside opened fire, injuring a policeman and a civilian, both of whom succumbed to their injuries," a police official said.
The slain policeman has been identified as Ashiq Hussain, and the civilian, who owned the house, as Muhammad Yousuf Rather. Rather's wife Rafeeqa Begum was also injured and admitted to a Srinagar hospital.
Besides Dawood, a resident of Srinagar, the three slain militants were identified as Majid Manzoor Dar of Pulwama, Adil Rehman Bhat and Muhammad Ashraf Ittoo, both from Anantnag in south Kashmir.
"Dawood was initially known to be affiliated with the Tehreek-ul-Mujahideen (TuM) terror outfit. This terror gang was active on the social media and targeted policemen on duty. Their social media profiles and inputs indicate they were inspired by the IS ideology," the police spokesman said.
A police officer said the slain militants were planning strikes and to carry out recruitment in south Kashmir.
Around 20 people were injured as clashes erupted between locals and security forces near the encounter site. Clashes were also reported in Srinagar.
9 security men injured in Tral
Militants attacked a security forces party in volatile Tral in south Kashmir's Pulwama district that left at least nine of them injured.
The incident took place at about 3.20 pm.
Police said militants fired upon the security forces when they were handling law and order in the area.
"Terrorists lobbed a grenade, followed by firing on the security forces from a crowd when they were busy with law and order duties on Tral road resulting in injuries to the nine security personnel," a police spokesman said.
He said security forces exercised maximum restraint after being attacked to prevent any civilian casualties.
Militant group Hizbul Mujahideen owned the responsibility for the attack.

Cop succumbs to injuries
A J&K policeman who was injured in a militant attack in Srinagar last week succumbed to his injuries on Friday.
Head Constable Habibullah, a resident of north Kashmir, was injured in a militant attack at Karan Nagar locality on June 15 that also left another cop and three civilians injured.
Habibullah, the lone bread-earner of the family, is survived by three daughters, two sons besides wife and aged parents. His elder daughter's marriage was scheduled next week.
Meanwhile, civil and police officers led by Director General of Police SP Vaid laid floral wreaths on the mortal remains of the two cops who died on Friday.
Top News
PM Modi calls for maintaining balance between mitigation and...
The decision amounts to creating a parallel jurisdiction, ta...
No suspicious objects have been found yet, say police
During today's games, a generator would be required to power...
'In Punjab, Rs 11 is considered a 'shagun', so I am announci...