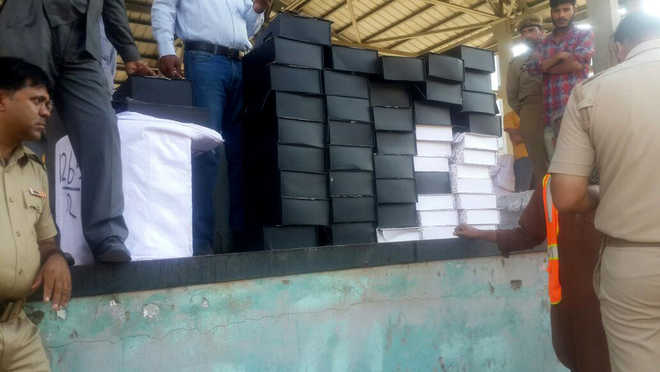 Majid Jahangir
Tribune News Service
Srinagar, July 21
The J&K Police today seized 66.5 kg of narcotic drugs in north Kashmir from a truck arriving from Pakistan-occupied Kashmir (PoK) as part of the cross-LoC trade between India and Pakistan.
The seizure was made this afternoon at the Salamabad Trade Centre at Uri in Baramulla district on the Muzaffarabad-Srinagar highway, over 100 km north of Srinagar.
"We had specific information that a large quantity of narcotic drugs is to be carried by some PoK truck and delivered at this side by means of cross-LoC trade. We intercepted the truck from PoK on Friday at Salamabad and on thorough search of the truck 66.5 kg of narcotic drugs were seized," Senior Superintendent of Police, Baramulla, Imtiyaz Hussain said.
The narcotic drugs, which appear to be heroin, were found in the vehicle bearing registration number XA-267, Hussain said.
He said the drugs were hidden in boxes, suppose to contain mercantile goods, which were to be supplied to Kaloo Traders. The driver of the truck was identified as Syed Yousuf, son of Ali Akbar of Muzaffar Ahad, PoK. He was detained and being questioned. The SSP said they would investigate all the angles in the case. "We are investigating all the angles, including the aspect that drug may have meant to fund terrorism or even fuel stone-throwing," he said.