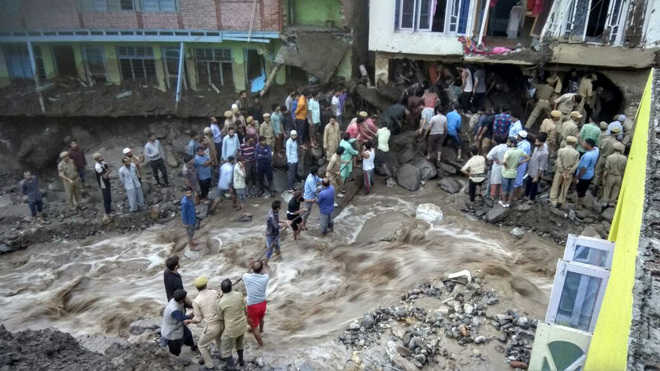 Amir Karim Tantray & Ranjit Thakur
Tribune News Service
Jammu/Doda, July 20
Eight people were killed and at least a dozen were injured in flash floods at Thathri town of Doda district and the Chichwara area of Kishtwar district today.
Six persons were killed in Thathri whereas two in Chichwara. The midnight catastrophe left people high and dry in Thathri town, situated on the banks of the Chenab on the Doda-Kishtwar highway, 35 km from Doda town. Rescue operations were launched on a war footing after the flash floods.
It was around 2 am when a cloudburst led to flash floods in Thathri town causing widespread damage to houses, shops, school, roads and vehicles parked on the roadside. Six people were washed away in the floods, bodies of whom were recovered during the rescue operations, whereas over a dozen people were trapped inside their houses.
Among the six killed in Thathri, four belonged to one family, who were identified as Naru Devi (40), wife of Dev Raj of Nagni village, her daughters Sapna Devi (14) and Priya Devi (7) and son Rahul (9). Two other people, who lost their lives, were identified as Patna Devi (45) and Shrishta Devi (15), both residents of Balgran village.
Cries woke up the residents of Thathri town after which the police and administration immediately reached the spot and started rescue operations with the help of locals.
"In the beginning no one was able to understand what has happened. It was next to impossible to go near the devastation site as the flow of water was very fast and big stones and debris restricted the movement of rescue teams," said Firdous Ahmed, an eyewitness.
Deputy Commissioner, Doda, Bhupinder Kumarsaid eight residential houses and five shops were damaged, whereas several cars were washed away in flash floods.
In another incident of cloudburst at Kishtwar, a woman got killed and her six-year-old grandson went missing in the flash floods. The cloudburst triggered flash floods at around 4 am in Chichwara, Kishtwar, which swept away Kungi Devi (45) and her grandson Samrat.
They were staying inside a water mill in the village.