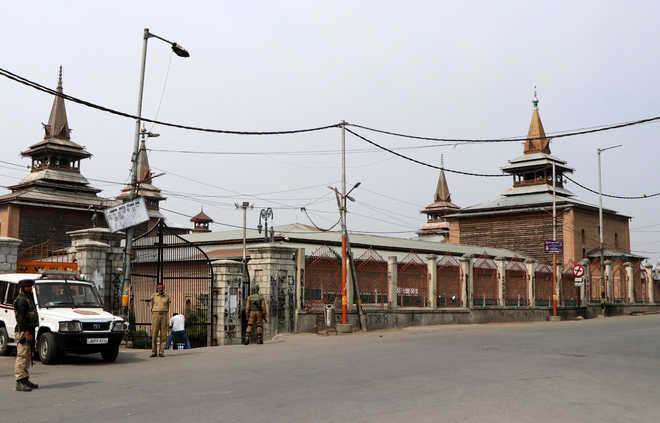 Azhar Qadri
Tribune News Service
Srinagar, September 20
Even as the Internet remains suspended across Kashmir for more than a month, the state government this week invited e-tenders for several construction and renovation works.
The e-tenders were invited by the roads and buildings (R&B) department of the state government "for and on behalf of the Governor, J&K state".The works for which the online tenders have been invited include the upgrade and improvement of the road surface at Khan Colony, Firdousabad, in Srinagar's Batamaloo locality, at Batapora, Hazratbal, and construction of a culvert at Rainawari and manholes at Balhama.
The e-tenders were also invited for the construction of drains at Laribal and Yamlar in north Kashmir's Handwara sub-district, construction of Badkoot link road and seven other works there.
The state government also invited e-tenders for eight works of upgrade, installation and construction in Sumbal sub-district of north Kashmir.
The R&B department, which invited these e-tenders, also instructed the bidders that only those tenders which were submitted online would be accepted. "The bidders have to submit their bids online in electronic format with digital signature. No bid will be accepted in physical form," the department said.
The department asked the approved and eligible contractors registered with the state government, CPWD, Railways and other state and Central governments that the date and time of bids will be notified on the website of www.jktenders.gov.in and conveyed to the bidders through an e-mail.
"The bids of responsive bidders shall be opened online on the same website," it said.
It also instructed the bidders to download the 'bid submission manual' from the 'Downloads' option as well as from the 'Bidder Manual-J&K' on the same website.
The invitation to file the e-tenders has come at a time when the Internet remains suspended across the Kashmir valley. The internet and mobile phones have remained suspended since August 5 when the Union Government announced the abrogation of Article 370. The landline phones, which were initially suspended, were restored in recent weeks but there is no official word about the restoration of mobile phones and the Internet.
Top News
Officials say two minor girls, daughters of main accused, we...
Jaishankar said that the human bond between the two countrie...
Says the gurdwara is open to people from all communities and...
Following recent killings, Pakistan's ISI relocated several ...
Arrested smugglers identified as Sarabjeet Singh of Jhalandh...