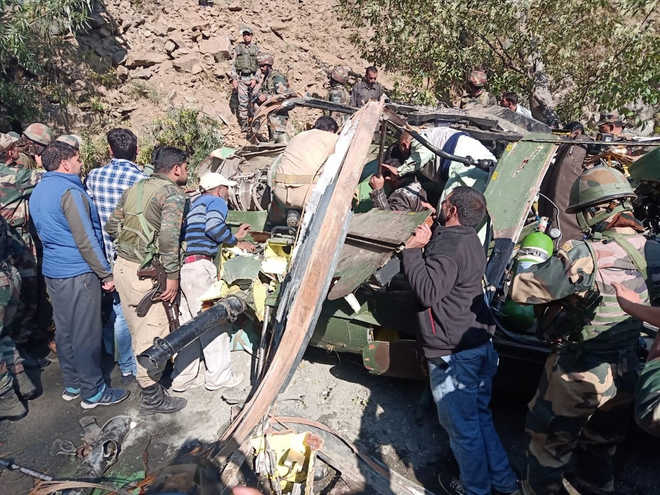 Shyam Sood
Rajouri, October 24
Northern Army Commander Lt General Ranbir Singh sustained injuries when the Advanced Light Helicopter (ALH) he was flying in crash-landed near the Line of Control (LoC) in Jammu and Kashmir's Poonch district today.
Nine persons, including two Colonels, two Lieutenant Colonels and two pilots, were on board when the helicopter developed a technical snag and crash-landed in the Mandi-Bedar area, around 25 km from Poonch town and 5 km from the LoC.
"Army Commander was visiting units in Poonch sector, when the ALH developed a technical snag and crash-landed. All passengers and crew sustained injuries. The injured were evacuated to Command Hospital, Udhampur. As per medical investigations, all have sustained blunt and superficial injuries but are stable. The local villagers assisted the Army in evacuation of the injured. We salute them," said Jammu-based Defence PRO Lt Col Davender Anand. Besides, a civilian, Mohammad Afzal, was injured.
The helicopter was on its way to Srinagar from a forward area in Poonch, which had been witnessing shelling from Pakistan, said sources.
The Army has ordered a court of inquiry into the incident. Sources said around 1.50 pm, the pilot noticed a snag in the helicopter while flying over Bedar area and attempted an emergency landing on the riverbank.
"We saw a helicopter return soon after it passed over the area. Before it could land, it got entangled in some wires and crashed onto a tree. Locals rushed to the site and informed the Army and police," said an eyewitness.