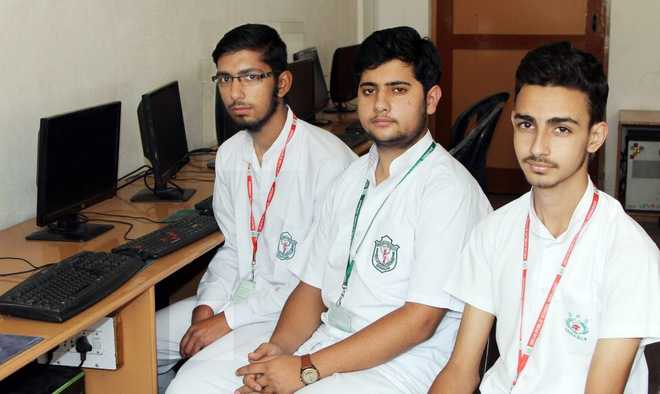 Rifat Mohidin
Tribune News Service
Srinagar, October 1
Valley student Basar Munim Qari's innovative project has been selected in 'Idea Challenge 2017: The Future World', a tech event organised by the National Institute of Technology (NIT), Srinagar.
Basar, 16, a student of Delhi Public School, Srinagar, submitted his project www.webcycle.in at the NIT where his competitors were engineering students from different colleges but due to his idea, it got selected among the 10 best projects and is to demonstrated by him on October 2 before a panel of judges.
"My parents never stopped me from pursuing my interest in technology because I never gave them a chance and got good grades in academics," says Basar, a resident of Srinagar.
The NIT, Srinagar, had received 42 proposals but only 10 were chosen for final selection which included Basar's 'Webcycle'.
Basar started his start-up WebCycle when he was in Class X along with his two friends Zuhaib Zahoor and Saad Khan. The students didn't go to any professional institute and learnt with the help of online tutorials and started developing hybrid applications at affordable prices.
Hybrid applications work on android phones, iOS and windows which is easy for people to operate, says Basar.
"In Kashmir, you won't see many entrepreneurs and companies using technology. My project is for their use because it is very affordable and they come closer to the world that is moving forward with the help of latest technological innovations," says Basar.
Basar, who is the CEO of WebCycle and the senior software developer in his venture, has also started 'Hechav learning app', which is meant for education for all and is focused on two languages — Hindi and English.
"It is not based on any syllabus or anything like that. The app helps to educate all with a focus on Hindi and English languages," says Basar, adding that he wants to pursue BTech in computer sciences in future. For the Muslim festival of Ramadan, Basar also developed an app 'Shahrul Ramadan' where all the information is available for people regarding fasting.
Basar's start-up has already developed websites for Kashmir-based entrepreneurs who wanted to join the digital world without spending too much on it.
Top News
Says the meltdown of Adani Group would not impact country's ...
The regulator says committed to ensuring market integrity; m...
Appointments come amidst strong observations by a Supreme Co...
Firm exported two consignments of 24 batches of the allegedl...
Over 100 members of 19 families were evacuated after their h...