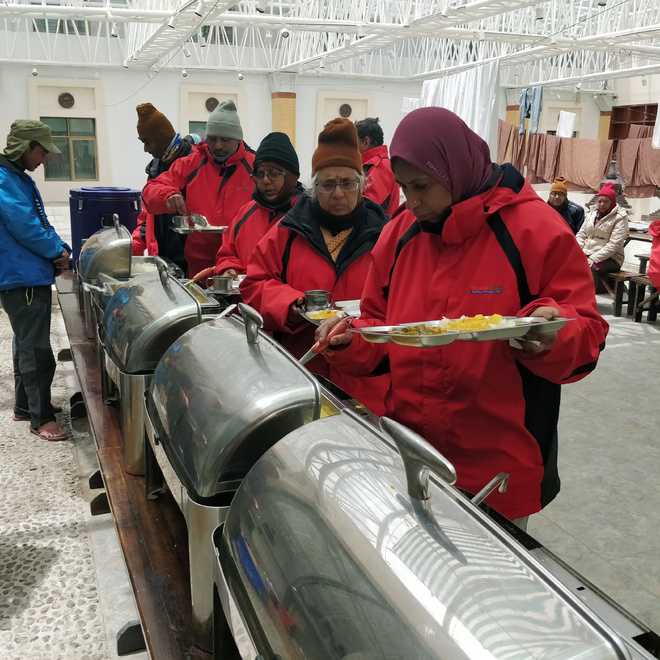 Tribune News Service
Jammu, July 19
A Jammu firm — Madhuban Foods — has been mandated as the only provider to deliver food for the entire Kailash yatra on behalf of the organisers which issue permits to pilgrims and tourists globally.
A collaboration was formed between India, Nepal and China to conduct the pilgrimage with a never-before experience to provide 'sattvic' diet (which lays emphasis on seasonal foods, fruits, dairy products, nuts, seeds, oils, ripe vegetables, legumes, whole grains and non-meat based proteins) to lakhs of pilgrims expected this year and onwards.
President, Association of Kailash Tour Operators, Prakash Shreshtha, who is also the managing director, Explore Kailash Treks Private Limited, Nepal, has joined hands with Sumit Partap Gupta, managing director of Madhuban Foods, for the venture.
Shrestha, who has been playing a major role in serving the Kailash Mansarovar yatra pilgrims, said the chefs from India understood the Indian taste better and it was crucial that the pilgrims were served food compatible with their food habits.
"In the arduous terrain of the yatra, when the pilgrims eat well, they shall be able to complete the pilgrimage with satisfaction. Better food and a professionally curated and standardised service will go a long way in creating the influx of pilgrims, thereby creating more job opportunities in Nepal," Shrestha said.
The managing director of Madhuban Foods, who is from Jammu, has experienced the Kailash yatra for several years and is familiar with the difficulties that the operation of catering to the food needs of pilgrims presents. "The operations are being conducted in harsh weather and hostile terrain. Provisions, groceries, vegetables, trained manpower, fuel, utensils, equipment and accessories needed to be transported to the remote locations en route the yatra to make the catering operations possible," Gupta said.
"I am constantly travelling on the route to ensure that the seven kitchens that undertake the operations are equipped and ready to serve hot and nutritious food to the tired devotees round the clock every day," he said.
He said the cuisine served en route was as per the 'sattvic' culinary norms. All aspects of the cuisine, which are being successfully implemented in the sattvic kitchens of the group at Katra, Gurugram and Shirdi, are being implemented with care and perseverance at the kitchens that have been set up on the routes along the Kailash Mansarovar pilgrimage.
Top News
Counting of votes to commence at 8 am amid tight security
The pledge calls for phase down of unabated coal power and p...
Tsunami waves could hit the Philippines by midnight local ti...
At all-party meeting, TMC leaders demand discussion in Lok S...
Sarvjeet Sidhu, pleaded guilty to attempted murder, while Su...