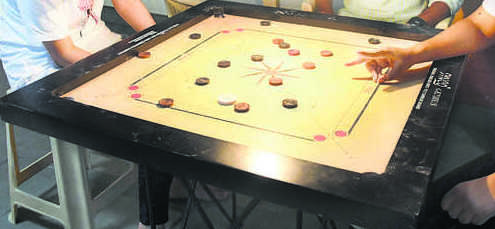 Aakanksha N Bhardwaj
Tribune News Service
Jalandhar/Srinagar, October 14
Local sports goods industry has never had it so good. Since the abrogation of Article 370, there has been a four-fold rise in the sale of carrom boards, say manufacturers and traders. With Internet services in Kashmir suspended and outdoor life affected owing to heavy security presence, Valley residents have turned to indoor games for recreation.
Vishwas Chatrath, the owner of a leading carrom manufacturing company, says he has been getting calls on the landline for carrom, chess, and ludo orders. "Such is the rise in demand that we are unable to cater to our local customers," he says. Another manufacturer Vikas says, "We are 15 carrom manufacturers in Jalandhar. We would export 200 pieces every month earelier. Now we send 600-700 pieces to J&K."
In Srinagar, groups of youth playing carrom at street corners have become a common sight. One such group has spread a tarpaulin sheet for protection against the sun and rain and also installed a bulb. It has become a junction for youngsters from neighbouring localities, who keep playing even after dusk.
"There is absolutely nothing to do for the whole day. Ludo helps me relax," says Riyaz Ahmad, a private sector employee.