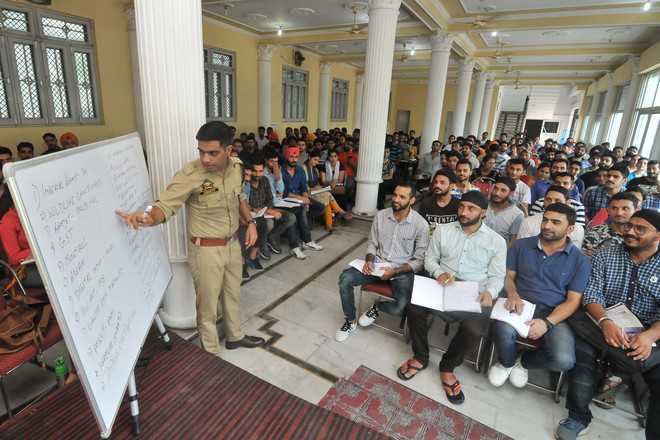 Amir Karim Tantray
Tribune News Service
Jammu, June 4
An Indian Police Service (IPS) officer, Sandeep Chaudhary, has started free coaching classes for aspirants of competitive exams in Jammu.
The SP (South), Jammu, began the mission with 10 students but now, the number of aspirants has crossed 150. Earlier, he started classes only for aspirants for the J&K Police Sub-Inspector Examination to be held on June 24 but later, he started preparing students for SSC, banking and UPSC exams too.
"I feel the youth don't get much exposure in Jammu in terms of preparing for competitive examinations. My small step is aimed at providing a platform to such aspirants so that they can achieve their goals," he said.
Chaudhary takes classes from 8 am to 10 am for two hours at the Rani Plaza Banquet Hall in the Nai Basti area of Gandhinagar, Jammu. There are a few other coaching centres in the area but those are not affordable for everyone.
A 2011-batch IPS officer of the J&K cadre, Chaudhary hails from Ferozepur district of Punjab. He did his Bachelors of Arts and Masters of Arts from Indira Gandhi National Open University before clearing the UPSC examination in 2011.
A firm believer in integrated learning, Chaudhary said, "Getting through tough exams is possible even without costly coaching. Focused approach and learning through participation also leads to faith of the youth in the system. We can help youth in building their careers."
He believes that a politically aware citizenry is not possible without educated youth. "Employment is the largest challenge for the youth and making them capable to achieve their professional goals helps them become better citizens," the police officer said.
Top News
Tensions flared between India and Canada after Trudeau's exp...
The bureau had launched an investigation into the matter bas...
Victim claims her husband had borrowed Rs 1,500 from Pramod ...
Chinese consul general says relations between the two countr...
The top court asks the state government to conduct counselli...