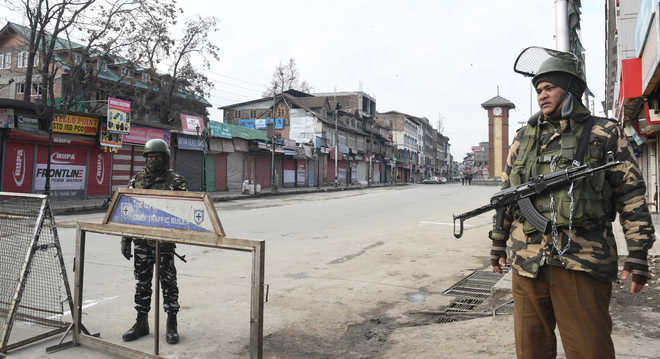 Srinagar, May 24
Curfew was imposed in parts of Kashmir on Friday, a day after Zakir Musa, the so-called chief of a group affiliated to the Al-Qaeda, was killed in an encounter with security forces in Tral.
Educational institutions have been closed and curfew was imposed in places in Kashmir as a precautionary measure, following the Thursday incident, officials said.
Internet was also shutdown, they said.
Barring some clashes between groups of youths and security forces, the situation in Kashmir remained largely peaceful on Friday as prayers were held for Zakir Musa, the chief of an Al-Qaeda affiliate in the Valley, who was killed in an encounter, officials said.
There were some protests and clashes after Friday prayers at a few places, the officials said, adding that the security forces exercised restraint.
"The situation remained largely normal and under control," they said.
The students of Kashmir University offered prayers for the militant commander who was killed in an encounter with security forces in Tral area of south Kashmir's Pulwama district.
The officials said the authorities have decided to close all schools and colleges in the Valley on Saturday as a precautionary measure. These institutions remained shut on Friday.
Divisional Commissioner (Kashmir) Baseer Ahmed Khan said admit cards and roll number slips would be treated as travel passes for candidates who have to appear for examinations on curfew days.
Mobile Internet services remained suspended across the Valley and the officials said the services would be restored after improvement in the situation.
Meanwhile, a number of funeral prayers were held for Musa alias Zakir Rashid Bhat at his ancestral village of Noorpora in Pulwama district, the officials said.
They said the people braved curfew and rains to reach Musa's native village where he was laid to rest after several rounds of funeral prayers.
The people then dispersed peacefully, the officials said. — PTI
Top News
Can write to the Housing Committee seeking an extended stay,...
Pro-Khalistan activist Amritpal Singh has been on the run si...
Police officials yet to confirm whether this is the latest p...
The decision was taken during a Panthic gathering at Amritsa...
Says the amount of compensation has been enhanced by 25 per ...