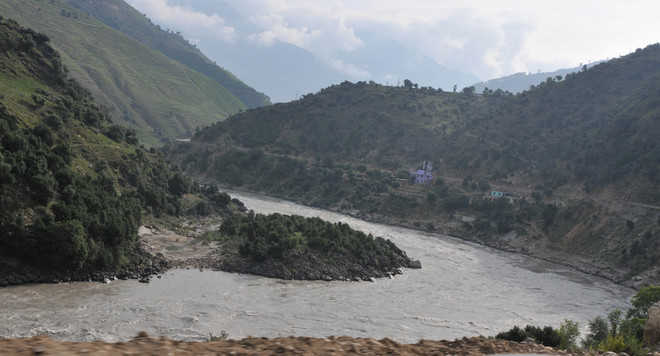 Sumit Hakhoo
Tribune News Service
Jammu, October 24
The Ministry of Home Affairs (MHA) has become a stumbling block in the much-touted Chenab water diversion project, which aims at ending the drinking water crisis being faced by 15 lakh people in Jammu.
A delay in granting of the no objection certificate (NOC) by the MHA has not only stalled the project, but cost overrun to divert 100 cusecs of water from the river at Akhnoor is also likely.
Sources in the Public Health Engineering (PHE) Department said the Department of Economic Affairs, which comes under the Union Ministry of Finance, had asked the PDP-BJP coalition government to seek clearance from the Ministry of External Affairs (MEA), Nitiayog and the Ministry of Home Affairs (MHA) before the project file is submitted to the Japan International Cooperation Agency (JICA) for the sanction of funds.
Though the MEA and the Nitiayog had given their NoC few months ago, the Union Home Ministry has still not given its security clearance.
"The JICA is ready to fund the project, but non-clearance by the Centre is depriving the state of benefitting from its water sources to meet the requirements of its growing population. The state is already throttled by the discriminatory Indus Water Treaty (IWT) with Pakistan. It is a simple civic project, but has been made complicated by the successive governments," said a senior official in the Economic Reconstruction Agency (ERA), which will implement the project if funds are made available.
Sources said Army units deployed in Akhnoor had also raised their objection to the project, leaving the state with no option but to wait for the order from the Home Ministry.
Sham Choudhary, senior BJP leader and Minister for PHE and Irrigation, refused to comment on the issue. Senior officials in the ERA also could not be contacted for ton the delay in starting the work.
The Chenab water diversion plan was first proposed in the late 1980s. However, it has remained out of the focus for more than two decades. It was during the Congress-PDP government in 2006-07 that a survey was conducted and a detailed project report was submitted to Asian Development Bank (ADB). Later, during the NC-Congress regime under Omar Abdullah, the ADB refused to fund the project over the failure of the state to submit the environmental impact report.
After the PDP-BJP coalition formed the government in 2014, the BJP revived the plan and a revised report was formulated and submitted to the Centre, but not much progress has been made since then.
"We have approached the state government to take up the issue with the Centre. At the moment, the BJP is ruling the state and New Delhi and hope that the decision is taken soon," said a PHE official. "The Chenab is the only way to meet the requirements of the expanding population, otherwise we are heading for a social unrest in coming years," he added.
To be implemented in two phases
Under the project, which is proposed to be implemented in two phases, 100 cusecs of water from the Chenab will be diverted at the Ranjan lift station in Akhnoor, 30 km from Jammu
It will be treated in the filtration plants on the banks of the river and carried through huge pipes till Muthi, 25 km from Akhnoor town and 8 km from the city centre, for distribution
Under phase I, 250 million litre daily (MLD) will be lifted to cover the proposed population of 25 lakh by 2031. In phase II, 250 MLD will be lifted to meet the requirement of 37 lakh people in 2046