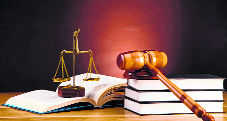 Ishfaq Tantry
Tribune News Service
Srinagar, October 19
The J&K Government has so far revoked the detention of four children booked under the Public Safety Act.
In the latest case, the government revoked the detention of a 14-year-old hailing from Memender, Shopian, after an inquiry, carried out on High Court orders, found him to be a juvenile.
The government had earlier rejected the school certificate furnished by his parents to determine his date of birth.The minor is lodged in a jail in Varanasi, Uttar Pradesh.
"As per statements, especially of the Principal of Maktaba Islamia High School, the age of the petitioner-detainee, is 14 years, 4 months and 25 days", the Registrar Judicial, High Court, said in his report submitted to the High Court on October 14. The boy was booked under the PSA on August 10. Subsequently, on October 15, government counsel Bashir A Dar informed the court that the state had revoked the detention order passed against the minor. Earlier, the government had revoked the detention of a minor from Srigufwara, South Kashmir, whose parents too had submitted his school certificate to prove his date of birth. The HC later revoked the detention of a minor from Nowpora Kalan, Sopore, and of a third from Soura locality in Srinagar, whose parents too had filed a habeas corpus petition.
"In none of the cases did the HC impose a penalty on the detaining authorities for violating the Juvenile Justice Act," one of the lawyers said, adding that the parents had not pressed for compensation.
Top News
Separatist still at large | 6 FIRs, 114 arrests so far | ISI...
Indian-Americans express outrage at the incidents of vandali...
Limited budgetary allocation for research in health is a maj...