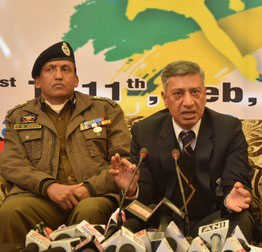 Amir Karim Tantray
Tribune News Service
Jammu, January 29
Maintaining that an FIR in the Shopian incident is just the start of the investigation, Director General of Police (DGP) Shesh Paul Vaid today said no Army officer had been named in the FIR.
"It is not that an officer has been named but the FIR says that the so-and-so unit of the Army headed by a such-and-such officer was at the place," the DGP told the media.
He was addressing a press conference in connection with the 66th BN Mullick Memorial All India Football Championship, organised by the J&K Police at the police headquarters here today.
"It is a matter of investigation in what circumstances they (Army) fired upon. The investigation will include the Army version, eyewitnesses' account and those who have lost their loved ones. The Army officers who were there on the spot will also be questioned. The investigation will be all-inclusive," the DGP said.
On January 27, two youths were killed and another critically injured when Army men fired on a group of stone throwers in Shopian.
The Army maintained that their vehicles were pelted with stones by around 250 persons and they fired in self-defence. An FIR has been registered in the case.
The issue was raised in the Legislative Assembly today when the Opposition demanded a discussion on the matter. The House held the discussion and Chief Minister Mehbooba Mufti replied to it as well.
On whether giving amnesty to stone throwers in the Valley was boosting the morale of youth to throw stones at security forces, the DGP said: "The decision (giving amnesty) has been taken at the highest level. The amnesty was given to those who were first-timers and had no serious or heinous cases against them. You must not block their career but at the same time it doesn't justify pelting (stones) in Shopian. Anybody taking the law into his hands will face the law. These two are different things."
Commenting of the lynching of Deputy Superintendent of Police Ayoub Pandit, Vaid said: "Ayoub Pandit is the most dear case to the J&K Police and we took it up as a challenge. We investigated the case and all those involved were identified by the SIT headed by the then SP, North Srinagar. Those people were arrested and challaned in the court. We have also challaned the Amarnath yatra case. The court will take its view and will award punishment as we have put facts before it."
Top Stories