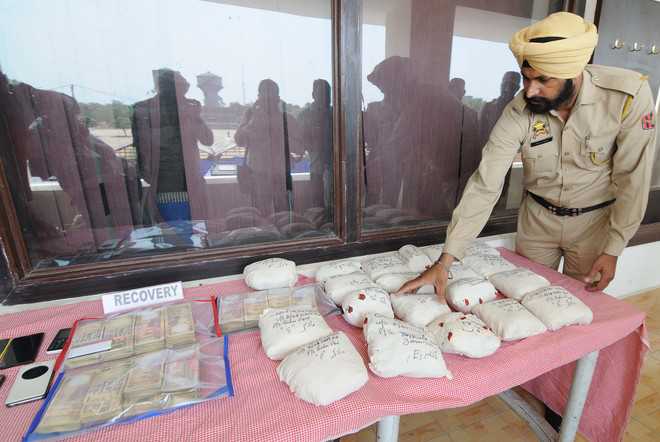 Dinesh Manhotra
Tribune News Service
Jammu, July 26
While governments of Punjab, Himachal Pradesh and Punjab have decided to form a joint force to tackle the interstate network of drugs smugglers, the authorities in J&K are still in deep slumber to tackle narco-terrorism.
Like other northern states, J&K is virtually slipping into the tight grip of drug mafia and parents are helplessly watching their teenage children dying a slow death due to failure of the authorities to crack down on mafia well connected with politicians and police personnel.
Three cops were arrested with heroin on the city outskirts on Monday. The arrests come days after a policeman was arrested in Kupwara with heroin worth lakhs.
Sunny Kumar, Khurshid Ahmad and Javed Mir, both from Kashmir, were arrested from the Miran Sahiba area of Jammu on Monday.
"Except cosmetic exercises, nothing effective has been done so far from the government side to eradicate this menace, which is more dangerous than terrorism," Zorawar Singh Jamwal, chairman, Team Jammu, told The Tribune.
As representative of Team Jammu, is a social organisation which has launched a campaign against drug mafia in J&K, Jamwal was included in the state-level de-addiction panel constituted by the Governor's administration in March.
"Not even a single meeting of the panel has been organised so far," he regretted and maintained, "Panels appear only on papers."
Jamwal emphasised the need for devising a joint strategy with other northern states to tackle interstate drug mafia because J&K alone was not competent to deal with narco-terrorism.
The sensitive border state of J&K is battling narco-terrorism as international drug mafia is smuggling drugs through the Line of Control (LoC) and the International Border (IB) to sell small portion in the state and the remaining consignment in the neighbouring northern states.
On November 26, 2018, heroin worth Rs 40 crore was recovered from Mohammad Anwar of Rajouri. The consignment bore Afghan labels which indicated that the drugs were smuggled into Pakistan-occupied Kashmir (PoK) from Pakistan and were being transported to northern states.
Drug addiction is not confined to boys. The menace has now gripped girls too. The number of girls involved in drug abuse has increased manifold. The death of an adolescent, Divya Manhas, due to drug overdose couple of years ago is not an isolated case.
Top Stories