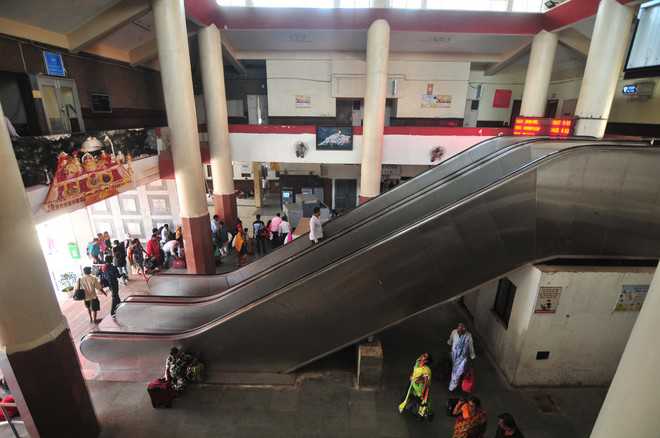 Amit Khajuria
Tribune News Service
Jammu, September 19
Despite having two escalators at the Jammu Tawi railway station, passengers, including patients, are forced to take the stairs, as escalators remain "unutilised" and operate at the sweet will of railway staff.
Started in February as part of the upgrade of the railway station, the escalators installed at platform no.3, remain unused. Another escalator at the entrance of the railway station works occasionally and that too when railway officials choose to.
The Jammu Tawi railway station, which caters to more than 20,000 passengers a day, was equipped with escalators to make it easier for the passengers to board the trains with their luggage, but the authorities haven't started their operation.
"We have never seen the escalators working. People, especially elderly and patients, have to carry their heavy luggage through the stairs," said Ankush Mahajan, a passenger.
"There seems to be a nexus between the authorities and porters, as non-functional escalators force passengers to hire porters," he said.
"Children often press the emergency button, which stops the escalators. It cannot be restarted till our technicians switch it on," said Sudesh Kumar, divisional electrical engineer, Northern Railway.
He said the escalators affected the job of porters at the station. "It might be porters who press the emergency stop button at the time of the arrival of the train, so that passengers seek their services," said Kumar.