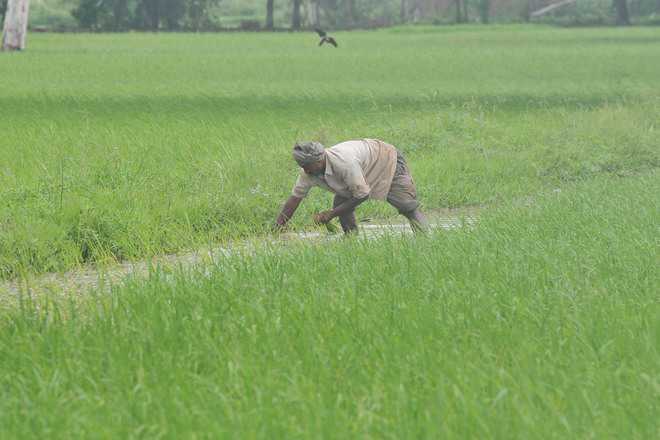 Sumit Hakhoo
Tribune News Service
Suchetgarh, July 29
The aromatic basmati rice produced in Jammu and Kashmir is gaining popularity with an increase in the demand for organic produce in the international market.
Officials in the Agriculture Department say millers and export houses in Punjab, Haryana and Uttar Pradesh are showing greater interest in the basmati produced in the state after a series of rejections by West Asia markets due to high pesticide content found in their consignments.
Experts say basmati varieties grown in Jammu are known for long grain and fragrance. These varieties have natural pest resistance. Unlike other parts of the country, the per hectare use of pesticides is less in J&K. The introduction of pest resistant ranbir basmati, RR-564, pusa basmati no.1 and pusa basmati 1121 has greatly reduced the need for heavy use of pesticides.
As per a national survey, the use of chemical fertilisers in Punjab is above 200 kg per hectare. In J&K, it is below 70 kg per hectare.
The state produces 1 lakh metric tonnes of exotic varieties of basmati rice in Jammu, Samba and Kathua districts in areas along the 198-km International Border with Pakistan. Around 30,000 metric tonnes is exported every year.
The areas where basmati is produced in Jammu fall between the flood plains of the Tawi, the Basantar river and scores of rivulets which bring mineral-rich soil from the Himalayas and the Shivaliks mountains during rains.
"Millers and exporters from Punjab, Haryana and Uttar Pradesh prefer to procure basmati from J&K because of less use of chemicals. Our produce is much sought after in markets for its quality. If the authorities provide support, basmati from J&K can emerge as a major brand at the international level and we can directly export the produce," says Ram Singh, chief executive officer (CEO), Zamindara Group of Rice Mills.
Estimates indicate 50,000 hectares in the state is under cultivation of different basmati varieties. About 40,000 hectares fall in Jammu district and 10,000 hectares in Samba and Kathua.
"In the international market, food products with even the smallest traces of chemicals are rejected. People from outside the state are showing interest in our produce," says RL Bhagat, joint director (Agriculture). During a buyer-seller meeting last year, per quintal basmati was procured for Rs 4,000 to Rs 4,500 per quintal.
In Jammu, basmati prices range from Rs 60 to Rs 150 and above.
Even as the state lifted ban on the export of basmati in 2009, it failed to bring it under the minimum support price category or establish grain mandis. "We can earn more if the state intervenes and helps farmers. This sector needs support," says Tejinder Singh, a farmer activist.