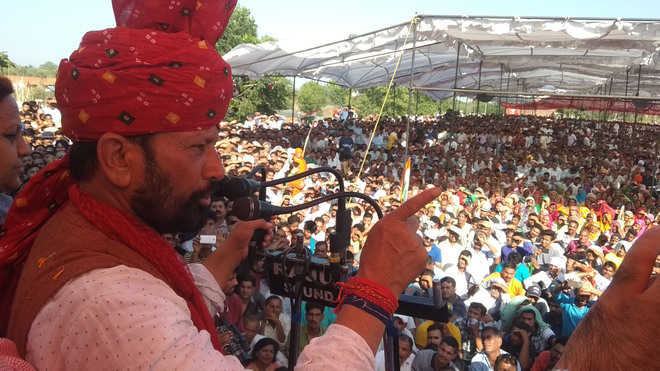 Tribune News Service
Hiranagar (Kathua), May 20
Former Forest Minister and BJP MLA Choudhary Lal Singh on Sunday warned the PDP leadership against demonising and discrediting the ethnic Dogra minority of J&K for petty political gain. He said within a day or two, some big announcement would be made to launch an agitation to restore dignity and honour of the Dogras.
Buoyed by the unprecedented response to his much-touted Dogra Swabhiman Rally, Lal Singh said since 1947, the successive state governments, headed by Kashmir-centric parties, were systemically demonising the Dogra minority to extend separatist agenda in the Jammu region also. "Gone are the days when the Kashmir-centric parties could gag our voice through oppressive means. Now Dogras have decided to fight for their dignity and honour," he said amid raising of slogans.
The rally had became an issue of prestige for the BJP legislator, who was forced to resign from the Council of Ministers for supporting the demand for a CBI probe into the infamous Kathua rape-murder case.
Lal Singh marched 35 km on foot from Lakhanpur to the venue for mobilising support for a CBI probe into the Kathua case. When Lal Singh started his march from Lakhanpur at 7.30 am only 500 people were accompanying him but when he reached the venue, the strength had swelled to many thousands. Residents of twin border districts of Kathua and Samba reached the place in huge numbers.
Lal Singh seized the opportunity to cash in on brewing anger against the state government allegedly for meting out step-motherly treatment to the Jammu region. "Dogras are facing worst-ever onslaught on their dignity and honour. We have to launch a decisive battle," he said.
In the presence of thousands of people, Lal Singh rechristened the controversial Hindu Ekta Manch as Dogra Ekta Manch to give it a secular colour so as to involve all Dogras.
"We don't want any lessons on secularism and brotherhood from the Kashmir-centric parties which lack guts to speak against fundamentalists. Since the times immemorial, Dogras are accommodating people of all religion and regions," he said, adding that Jammu had set an example of communal harmony and brotherhood at crucial times.
While demanding a CBI probe into the Kathua case, Lal Singh said the victim was daughter of Dogras. "We are duty-bound to ensure justice to her," he said while asking the people to intensity the struggle for justice.
Top News
Asks not to spread fake news amid reports of her distancing ...
'US-India partnership is a cornerstone for a free and open I...
Rehana Fathima, a woman's right activist, was facing charges...
On August 3, 1991, Congress leader and brother of former MLA...
Injured admitted to hospital in Imphal where their condition...