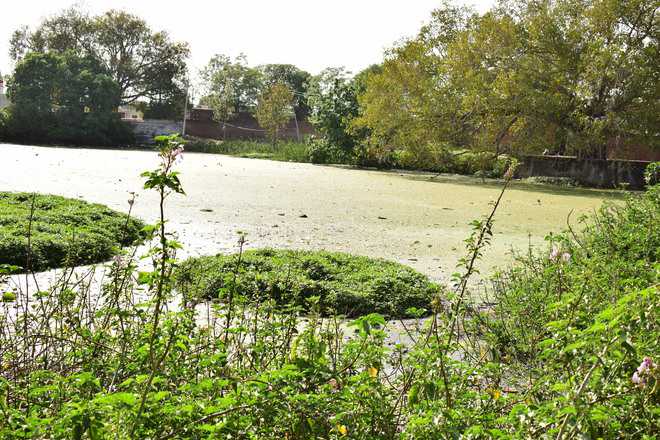 Sumit Hakhoo
Tribune News Service
Jammu, May 8
The state government has failed to act on the directions of the Union Ministry of Environment, Forest and Climate Change, which had sought an action taken report on the conditions of ponds, especially in Jammu.
A communiqué addressed to the Commissioner Secretary, Department of Forest, Environment and Ecology, J&K, was issued on April 16, but there has been no action on ground.
The ministry had responded to a complaint submitted to the Prime Minister's grievances cell by residents of Barnai and Bantalab regarding the condition of a huge water body at Manhas Mohalla, 15 km from the city, which has been turned into a cesspool due to direct influx of drains constructed by the civic bodies.
"It is requested that the matter may be examined for appropriate action and a copy of the action taken report in the matter be kindly provided to the ministry," says the letter from the ministry.
Locals have been demanding diversion of drains, so that the water body that holds religious significance for them could be saved.
"Despite the order, there has been no action by the civic bodies. For many years, residents have been demanding renovation and safeguarding of water bodies, especially at Manhas Mohalla. We were hopeful that government agencies will act after the order. There are more than 200 ponds in Jammu district alone and all are facing threat," said Nitin Bakshi, an lawyer who is fighting to save the ponds in Jammu.
Jammu was once adorned by ponds, but as the city started expanding and residential colonies mushroomed, these ponds started vanishing.
Since 2005, the Bantalab and Barnai area is under the jurisdiction of the Municipal Corporation. Rishpal Singh, Joint Commissioner (Administration), Jammu Municipal Corporation, said they were unaware of any such communication, but said ponds within the municipal limits of Jammu were under the control of different agencies. "That's why it becomes difficult to take any decision," he said.
"It is diffusion of responsibility when it comes to safeguarding the ponds in the city. You should ask the department that has received the communique," said Singh.
None of the officials from the Department of Forest, Environment and Ecology was available for comment.
In January and February, residents in Janipur, Bantalab and Barnie had accused the government of deliberately neglecting cleaning of ponds in the area and turning a blind eye to the encroachment by land mafia.
Top News
In April 2016, the then CIC M Sridhar Acharyulu had directed...
The slab constructed on top of an ancient `bawdi' or well co...
He is serving time in a road rage case dating back to 1988
Clashes broke out between two groups in the Kazipara area of...
The govt had earlier given exemption of 2.25 per cent in sta...