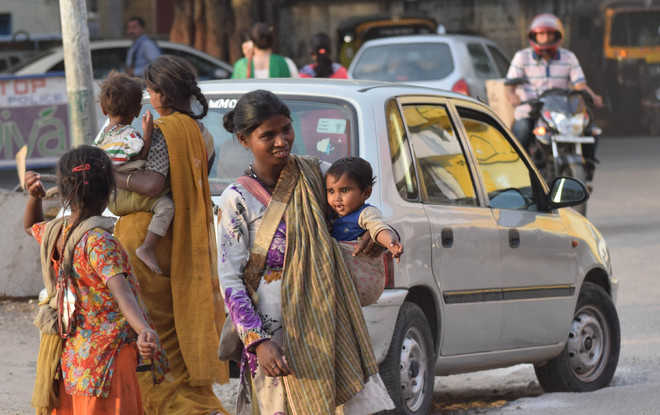 Tribune News Service
Srinagar, October 26
Terming poverty a human rights issue, the J&K High Court has decriminalised begging asserting that the "begging manifests failure of the state to ensure basic entitlements of health, food, clothing, shelter".
Hearing a public interest litigation, a Division Bench of Chief Justice Gita Mittal and Justice Rajesh Bindal struck down the J&K Prevention of Beggary Act-1960 and J&K Prevention of Beggary Rules-1964 calling them "unconstitutional" and "disproportionate infringement of the right to meaningful life, dignity, privacy and liberty guaranteed under Article 21".
"Criminalisation of begging is the outcome of extremely prejudiced social constructs of presumption of criminality against the poor and baseless stereotypes in ignorance of the extreme exclusion and disadvantages faced by the poor who are struggling to survive," the court said.
This significant court judgment of scrapping of law banning begging in J&K comes a year after advocate Suhail Rashid Bhat filed a public interest litigation praying to declare anti-begging laws as unconstitutional and violative of Articles 14, 15, 20 and 21 of the Constitution.
"The criminalisation of begging, which makes poverty an offence, is intended to remove poor people from public spaces, deprive them of the constitutional guarantees of inclusiveness and pluralism, and results in their further deprivation," the court said.
The court termed poverty as a human rights issue.
The court noted that begging involves peaceful communication with strangers, verbal or non-verbal, whereby a beggar conveys a request for assistance.
"Such activity is essentially part of the valuable right of freedom of speech and expression guaranteed to all under Article 19 (1) (A) of the Constitution of India," it said.
The High Court said prescription under Article 39 of the Constitution of India and Part IV of Constitution of Jammu and Kashmir have been completely overlooked while enacting and implementing provision of the Beggary Act and the rules.
Top News
IG Sukhchain Singh Gill said specialised units are involved ...
India's High Commissioner to Canada forced to cancel his app...
The hunt for Amritpal enters the third day on Monday as the ...
Fugitive diamantaire Choksi had challenged CBI application s...
Annual human rights report of the State Department is a mand...