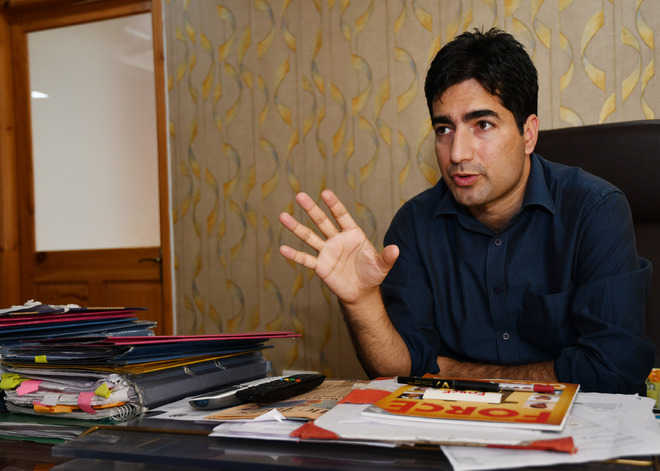 Azhar Qadri
Tribune News Service
Srinagar, January 9
When Shah Faesal, then a 26-year-old doctor from a remote north Kashmir village, cracked and topped UPSC in 2010, he lit hope and opened a floodgate for hundreds of Kashmiris aspiring to do what was considered to be an impossible feat. Eight years later, he resigned from the coveted service.
Since the moment he secured the first position in the UPSC, Faesal became an inspiration for many Kashmiri boys and girls as the number of candidates securing positions in various streams of central administrative and police services significantly increased.
Faesal, who did MBBS from Srinagar's Sher-i-Kashmir Institute of Medical College, had fought odds to become the first Kashmiri to top the UPSC. His resignation came as a surprise to many. "Let it sink in," said a senior officer, who tutored Faesal during his formative years.
During his IAS career, Faesal served in several positions such as Director of Education Department, Managing Director of Jammu and Kashmir Power Development Corporation and Deputy Commissioner in Bandipora district. However, he also had his share of controversies as his outspokenness put him on a collision course with the authorities. Last year, Faesal's tweet against rapes had described India as "Rapistan", leading to an inquiry and departmental action against him.
Faesal, however, derided the action against him and said the service rules "with a colonial spirit are invoked in a democratic India to stifle the freedom of conscience".
In May 2018, Faesal received Fulbright-Nehru Master's Fellowship at Harvard Kennedy School and he arrived from the US recently to announce his resignation. "To protest the unabated killings in Kashmir and absence of any credible political initiative from Union Government, I have decided to resign from IAS. Kashmiri lives matter," he said. Even when Faesal was in the US, there was speculation that he would quit the IAS upon returning to Kashmir and would join politics; either with the National Conference or float a new political party with several other like-minded foreign-educated youth.
Shortly before Faesal's announced his resignation, National Conference vice-president Omar Abdullah's tweet that the "bureaucracy's loss is politics' gain. Welcome to the fold" has led to the talk that he might have joined politics.
The tweet has also received a torrent of criticism as Kashmiri netizens have accused the IAS topper of hypocrisy. "To join NC would be the biggest blunder because the reason you put forth for resignation doesn't justify this decision of yours," Asif Sofi, a teacher, wrote on Twitter.