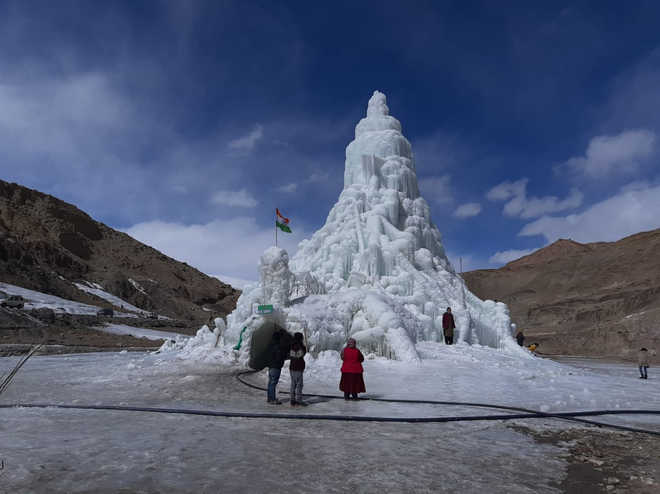 Azhar Qadri
Tribune News Service
Srinagar, July 10
Ice stupas — the man-made mini glaciers — are solving the water problem in the remote and cold desert region of Ladakh where less precipitation during the crucial spring has resulted in lack of vegetation.
Sonam Wangchuk, an award-winning innovator and scientist who conceptualised the ice stupa, said the mini glaciers were being increasingly adopted in Leh district of the region where people face an acute shortage of water during spring months.
Wangchuk said the ice stupas were now being replicated by the locals themselves. The idea behind the ice stupas is to freeze and hold the water that flows in winter and conserve it by letting it freeze as towers of ice. "These ice cones extend vertically upwards towards the sun and receive fewer of the sun's rays per the volume of water stored. So they take much longer to melt compared to an artificial glacier of the same volume formed horizontally on a flat surface," Wangchuk said.
At a workshop on climate change here, Wangchuk said the ice stupas were also becoming tourist attractions as locals converted some of them into 'ice cafes.'
Wangchuk, who was awarded the Ramon Magsasay award last year and his story also inspired a Bollywood blockbuster, said Ladakh had poor vegetation as springs were dry and there was a lack of water reservoirs in the remote mountainous region. He said the cost of constructing an ice stupa was cheap as compared to building a water reservoir. "The water stored in reservoir costs 20 paisa per litre while ice stupas cost one paisa per litre," he said. He said the first prototype was built in the winter of 2013-14. It took one month to build it and it lasted till mid-May.
"We chose a spot that was fully exposed to sunlight and located at the lowest altitude possible in the whole of the Leh valley. This was done to prove that if it works in these conditions, then it can work anywhere in Ladakh," he said. He said the idea had since been replicated across Ladakh and in other parts of the world also. "We chose to call it an ice stupa and not a ice cone so that people in Ladkah related to it," he said.
Wangchuk said his team was now working to rehabilitate Ladakh's Kulum village, which was abandoned by its people due to scarcity of water. "The people of Kulum are climate refugees. We now hope ice stupas can help in rebuilding this village and we are planning to build an ice stupa which will slowly release 15,000 litre of water," he said.
Top News
EAM advocates contacts between two governments to resolve is...
High Commission reports matter to police
96% of notes back with banks
NIA nabs second accused in border conspiracy case